The image shows the beautiful landscape of Dzukou village in Nagaland
Image courtesy: offbeatracks.com
Looking for a place that is offbeat and different? Look no further than one of the seven sister states of North-East India: Nagaland. Everything here is different, be it their attires, their festivals, and even their food! Nagaland is the quintessential getaway nestled amid lofty hills and splendid valleys. All this coupled with the enigmatic culture of this beautiful state will be nothing short of amazing for you! Read this blog further and you'll fall in love with Nagaland and head to this mystifying state as soon as possible!
Collage depicting Nagaland
Image courtesy: offbeatracks.com
Nagaland is located in the extreme northeast corner of India below the state of Arunachal Pradesh which also borders it in the north. On its eastern border lies Myanmar whereas on the west is Assam. The state of Manipur lies in the south.  
The place boasts of some exotic flora and fauna varieties, meandering streams, verdant green valleys, magnificent deep gorges and mystical high mountains. Nagaland is also called the 'Land of Tribes' and is an area waiting to be explored. The rich diversity of birds also gives it the title of the Falcon Capital of the world! Be sure to be dazzled by this hill abode tucked away in the far east corner of India. 
How to get to Nagaland
By Air
Kohima is the capital city of the state of Nagaland. At a distance of about 70 km from Kohima lies Dimapur which is the nearest domestic airport to reach Nagaland. It is well connected to all the major metropolitan cities like Kolkata and Delhi. 
By Rail
The nearest railway station in Nagaland is also located in Dimapur, at a distance of 70 km from Kohima. There are frequent trains plying from Kolkata, Delhi, Chennai, Dibrugarh, Jorhat and Guwahati. 
By Road
State-run buses frequently ply to and from Dimapur to Kohima. There are also some Govt-run buses and private luxury buses. You can also hire private taxis to travel through the state. 
Best time to visit Nagaland
The beautiful quaint state of Nagaland has pleasant weather almost all year round owing to the lush mountains and a plethora of rivers. Nevertheless, the best time to visit Nagaland is the winter season and early summer. The Winter months are considered to be the best time to visit Nagaland if you look at it in totality.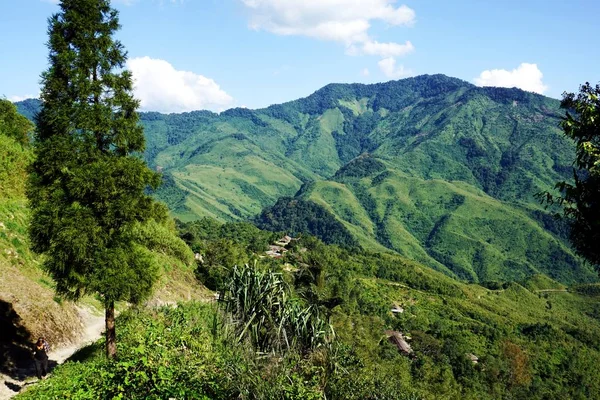 The image shows a typical landscape of Nagaland
Image courtesy: depositphotos.com
Summer in Nagaland
The average temperature in Nagaland during summer ranges between 16 to 31 degrees Celsius. Therefore, this is the best time to see blooming rhododendrons dotting the sprawling mountains. Summer here is not as hot as that of the plains, it is thus best for adventure activities and sightseeing. It is also a good time to indulge in local liaisons and connect to the Naga people to know more about their culture. The Moatsu Festival of Ao Tribe takes place in the month of May. It is a great idea to take part in the festivities. You can also attend the Aoleang Monyu Festival that takes place in the month of April. This festival is celebrated by the Konyak Tribe.
Monsoon in Nagaland
The subtropical climate of Nagaland causes humidity in the monsoon season between the months of June and September. There's heavy rainfall and the temperature ranges from 21 to 40 degrees Celsius. The area is also prone to landslides in this weather, hence, one must tread carefully if planning a vacation in Nagaland during the monsoon season. Since it is shoulder season, it may not be such a bad idea to pack your bags for this offbeat locale. After all, the cloudy misty views will make it all worth it!
Nagaland in Winter 
Winters in Nagaland go on from the months of October to March. The temperature ranges from 4 to 24 degrees Celsius. The humidity is quite less at this time of the year and therefore, it is ideal for sightseeing and some adventure too! Nagaland does not see any snow but you may get to see white peaks owing to the sleet depositions on the mountains. 
The image shows feathers from the hornbill bird
Image courtesy: offbeatracks.com
In the month of December and January, Nagaland completely transforms into a festive sparkle! The world-famous Hornbill festival takes place in December and you can witness the whole state and several tourists in a festive mood. 
It is a great idea to club the Hornbill festival with the harvest festivals that are also a must-do. 
The Pochury Tribe and Kachari Tribe celebrate these harvest festivals. 
Places to visit in Nagaland
Japfu peak is a beautiful hike to see the unbeaten paths and some ethereal natural beauty. It is the second highest peak in Nagaland sitting at an altitude of over 10,000 feet above sea level. You get to see snowy slopes and a panoramic view of the entire mountain ranges. This is also called the 'Valley of Flowers' of the northeast. Birdwatching is one of the things you can indulge in here. 
Add trekking to your Nagaland itinerary and enjoy breathtaking views along with a vast variety of bird species in Japfu peak. 
2.

Dimapur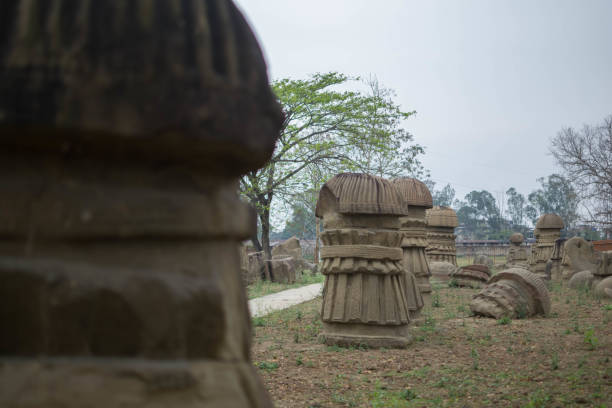 The image shows Kachari ruins in Dimapur
Image courtesy: istockphoto.com
Dimapur has the airport and the railway station. So, you are likely to enter the state from Dimapur. There is something for everyone here, history and nature at their best. The 10th Century Kachari ruins are a must to go to, with a mystical view of majestic mountains. 
3. Mount Tiyi 
At an altitude of close to 6500 feet, Mount Tiyi, located in the Woka district in Nagaland is another place that will take your breath away! This mountain has a lot of cultural importance to the Nagas. It is believed that the departed souls live in this mountain. It is a peaceful and quiet place that will surely calm your soul!
A quaint little hamlet, Wokha is adept with a perfect and harmonious blend of hills and landscape with beautifully coloured flowers, fresh and juicy varieties of fruits and calming flowy rivers. The Lotha tribe stays here and you can get opportunities to interact with them and know more about their culture. 
Add the bird-watching activity at Wokha and be amazed by the vast variety of fauna here. 
5. Kohima
The image shows Angami tribe in Kohima
Image courtesy: offbeatracks.com
The capital city of the state of Nagaland, Kohima is a must-visit. The untouched nature views and scenic vistas will amaze you in more ways than one. Adventure enthusiasts are in for a treat as there are a number of activities that you can undertake like hiking, trekking, camping and much more. The place is home to the Angami tribe.
We invite you to have a traditional Angami experience with us at Kigwema. It will be an enriching experience for sure.

The image shows Commonwealth War Cemetery in Kohima
Image courtesy: offbeatracks.com
When you are here in Kohima, do pay a visit to the Commonwealth War Cemetery. There are graves of more than 1400 soldiers who were martyred in the Japanese invasion of India from Burma during the Second World War. 
6. Chumukedima village 
This hilly place is located in Dimapur. It will give you unparalleled views and the solitude of the place will relax your senses and you'll feel at ease with the cool breeze calming you. 
The place is also known for its many waterfalls. A must-visit is the triple waterfalls, it is quite a favourite among the tourists. Relax and rejuvenate at this place close to nature and just revel in the natural beauty and feel the bliss around. 
7. The Naga Heritage Village 
The image shows Naga tribes performing during the Hornbill festival
Image courtesy: offbeatracks.com
The rich culture and traditions of the Nagas are showcased in the Naga Heritage Village. Another name for this village is Kisama Heritage Village which aims to preserve the Naga tribes and protect them. Every year in December, the Hornbill Festival is held in this village. 16 different Naga tribes participate in this festival and showcase their uniqueness, culture and traditions. The folk dances and performances are amazing and it surely is a one-in-a-lifetime opportunity to attend this culturally rich festival.
Add the Hornbill festival to your itinerary and be amazed at the cultural marvel that this festival is. 
The image shows Khonoma village in Nagaland
Image courtesy: offbeatracks.com
If you are one to always be around nature and adventure is your forte, then these caves are a must in your itinerary. Known as Old Peren, this village is a totally offbeat destination that will give you an unparalleled experience and you will get the true taste of Nagaland. Raw natural beauty, scenic treks and much more awaits you here. 
9. Phek
This is village Khonoma, a popular destination for tourists
Image courtesy: offbeatracks.com
A district in Nagaland, Phek sees major tourist footfall all through the year. Tickle your camera lens with the unprecedented surreal views of lakes, houses, rivers and much more. Birdwatchers and trekkers are in for a sure treat as there is so much that this place offers. 
Take a tour to Phek with offbeat experiences all along. 
8.

 

Doyang River
Also called Dzu or Dzulu, the Doyang river is the largest in Nagaland. Sit in the lap of nature, observe and marvel at creation at this peaceful river with serenity engulfing you in totality. Nature's paradise and ethereal vibes are what you will feel in this beautiful setting. It is rich in exotic flora and fauna too. 
9. Dzukou valley
The image shows Dzukou valley trek
Image courtesy: offbeatracks.com
In the capital city of Kohima lies the Dzukou valley sitting at an altitude of 8000 feet. You can only reach it by trekking in the mountainous region. Enchant your spirit in this stunning setting of nature at its best. It lies behind the Japfu peak and at the border of Nagaland and Manipur. It is a popular place to visit when in Nagaland and rightly so. 
Trek to the Dzukou valley for unparalleled views and an amazing experience. 
The Kachari or the Dimasa Kachari ruins are known to have been built somewhere in the 13th Century. History lovers, this place is the ideal setting for you to have a slice of your historical odyssey. An offbeat destination, this place with myriad pillars is sure to amaze you. 
Take a dive into history with an offbeat visit to the Kachai ruins in Nagaland. 
The image shows Angami tribe in Khonoma village in Nagaland
Image courtesy: offbeatracks.com
Touted as the first green village of India and even of the whole of Asia, the Khonoma village is an exquisite village in Nagaland. Endowed with thick forests and terraced farming, this place is raw and the beauty is to be seen to be believed. The Angami tribe had a struggle with the British to protect the tribe in this region, which is a testament to its historical importance. The place is also blessed with rich flora and fauna species. 
Visit Asia's greenest village Khonoma with us for an offbeat experience.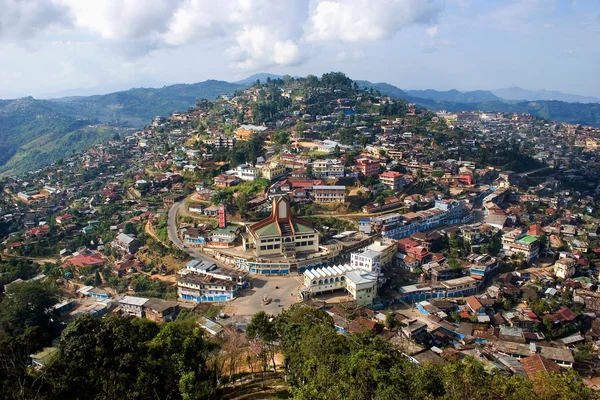 The image shows Mokokchung in Nagaland
Image courtesy: depositphotos.com
The most populated area in Nagaland is Mokokchung, situated in the magnificent mountains of Langpangkong. This place has a lot to offer too, from the district museum to exhilarating caves, there is surely a lot that you can undertake. History buffs can get the chance to see some preserved artefacts as well. 
Sprawling over a large area, the park serves as a conservation area for the flora and fauna of northeast India. The low-lying area of the park is a suitable topography for aquatic birds, and there are almost 500 bird species in the region which include Patridges, Parrotbill, Laughingthrush, Nuthatch and Fulvetta.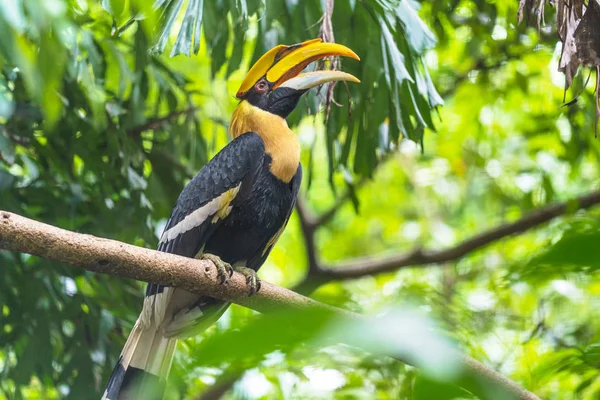 The image shows the Great Indian Hornbill in the Nagaland Zoological Park
Image courtesy: depositphotos.com
The park aims to promote awareness, educate and provide recreation for the people of Nagaland.
14. Mon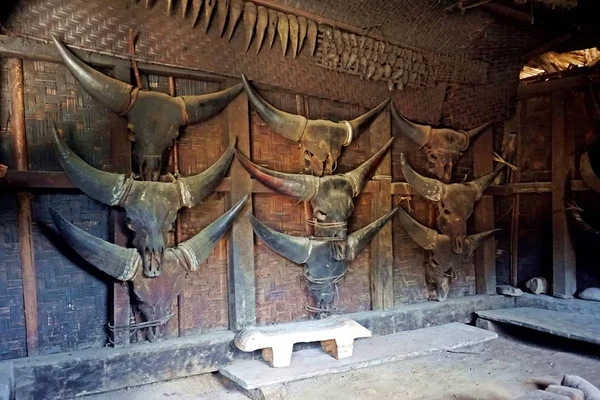 Konyak people decorate their houses with skulls of different animals
Image courtesy: depositphotos.com
Mon is known to have unparalleled beauty. This land of Konyak Nagas has a distinct style and culture. One visit here and you'll get a feeling that you are back in time. It is a totally different experience to visit this place. There are many other attractions that are must visit too, like the Shangnyu village, Longwa village, Veda Peak etc. 
We arrange for you to visit the last head hunting tribes of Konyaks at village Mon in the Mokokchung district. 
Culture and Language
Nagaland is a land of many tribes and this is the reason it has an exuberant tribal culture which will dazzle you with all its glory. Nagaland is a land of ancient history with as many as 66 tribes. Out of these only, about 16 are the major ones. They are all mostly similar in their food, attire and other laws except for language differences.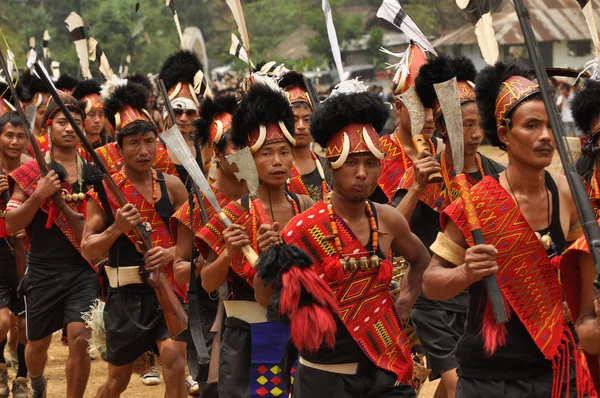 The image shows the Vibrant Nagaland culture 
Image courtesy: depositphotos.com
Christianity is the most prevalent religion in Nagaland, with Hinduism, Islam and Jainism in minority. Nagas are known for their hospitality and soft-hearted nature. Their energetic and lively gusto for life is depicted very well in their festivals and celebrations. All through the year in Nagaland, one can observe an air of festivity. The tribes are so diverse that there is a yearlong celebration in some form or the other. The general festivals like Christmas, New Year etc are celebrated along with many local festivals like Yemshe, Suhkruhnye, Sekrenyi, Bushu, Moatsu Mong, and many more. 
The Hornbill Festival
The image shows tribes dancing during the Hornbill Festival in Nagaland
Image courtesy: offbeatracks.com
The state government organises the Hornbill Festival in order to preserve the rich culture and traditions of Nagaland and also to stimulate interaction among the various tribes of the state. The first week of December every year sees the festivities of the Hornbill Festival. It goes on for 10 days. People from all over the world flock to Nagaland to be a part of the flamboyant festivities. 
There are a plethora of activities like archery, Naga wrestling, beauty pageant, musical concerts, Naga king chilli eating contest, etc. the local people also display their crafts of wood, bamboo and fabrics. The mesmerizingly colourful performances turn this place into one with amazing vibrancy and celebration.  Traditions of the tribe hold utmost importance in Naga society. They have a warrior background and were known for HeadHunting in which they would take the enemy heads to establish their win. Though this is obsolete now, thank God for that!
The image shows Naga people weaving baskets
Image courtesy: offbeatracks.com
The unique knitting art is a traditional thing of the Nagas. Their exquisite designs and vibrant colours in shawls, table mats, bags etc reflect a lot about their culture. We definitely recommend buying some of the local handicrafts by the Naga tribes as they are unique and also very pretty to adorn. 
The image shows beautifully coloured Naga handicrafts
Image courtesy: offbeatracks.com
Bamboo and cane products and wood carvings are other handicrafts that they boast of, which are one of a kind. The local people here have special crafting and carving skills. 
The artwork that is most intricate is in the form of Beadwork, Basketry, Woodcarving, Metalwork and Pottery. 
Food of Nagaland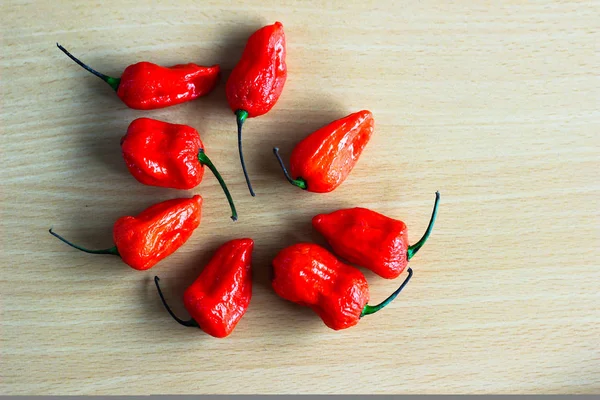 The image shows Bhut Jolokia or ghost pepper
Image courtesy: depositphotos.com
The people of Nagaland may be very soft-spoken, but their food is quite hot and chilli! They use a good deal of spices in their everyday food. Nagaland is home to the spiciest chilli in the whole world, Bhut Jolokia or the Ghost Pepper. They also use a very distinct kind of ginger in their food which may not be found anywhere else and has a distinct aroma and taste. 
The image shows the cuisine of Nagaland
Image courtesy: offbeatracks.com
Most of their food items are steamed rather than fried. Meat, fish and other fermented goods are used in their cooking. The majority of their dishes also have locally grown ghost peppers, herbs, garlic and ginger. 
The most famous dish in the state is Smoked pork which is cooked with fermented soya beans and eaten with rice and Tathu which is a chutney. Naga curry made of tomato and crushed potato, pork and silkworm larvae cooked with snails are the other common dishes of Nagaland. Nagas also eat dog meat in their food. 
Offbeat Experiences
At Offbeat Tracks, we understand that to have a different experience and to really enjoy the true essence of the place, one has to dig deep and explore. That is why we get the best experiences curated for you and your travel group. Here is an account of what all we offer when it comes to offbeat Nagaland: 
Enjoy a Naga cooking class. Learn to cook the authentic dishes of this amazing state. The use of chilli can of course be tweaked according to your taste buds. 

When in Kohima, we will take you to the farmers' market where you can enjoy fresh produce directly from the farms. 

You can have the local arts and handicrafts experience from Heirloom Naga. Learn from them about how they make the crafts and how beautiful the final results are. 

Nagaland is famous for bamboo crafts and we have a special experience curated for you. You can learn the bamboo craft from the locals and have first-hand experience trying this art. 

The Amur Falcon is a raptor belonging to the falcon family. It breeds in Siberia and then migrates to parts of India, to Nagaland as well. We can help you track their migration at Wokha. For birdwatchers, this is a rare experience. 
How We Impact
At Offbeat Tracks, we take pride in the fact that the experiences that we provide to our guests are carefully crafted, immersive, unforgettable and much more while also keeping in mind their impact on the environment. This is where responsible tourism at Offbeat Tracks comes in. Not only are we creating more employment opportunities by boosting village tourism but also partnering with local communities at homestays and service providers to create a self-sufficient ecosystem. 
We completely support local, whether it is food, homestays, experiences, artisans or the communities. We are in total cognisance of the United Nations Sustainable Development Goals 7, 8 and 12 to work on clean and affordable energy, economic growth and responsible consumption-production in all our travels.   
Nagaland is a charming land that is less explored but has a number of things to offer for the enthusiastic traveller. An offbeat location for sure, this land will give you enough reasons to have an unforgettable vacation that is full of so many unique and mesmerising experiences. The Land of the Nagas is now calling you to explore the unexplored and bedazzle you!