The picture shows scenic Himalayas in the state of Sikkim
Image courtesy: pixabay.com
The little north-eastern state of Sikkim is tucked away like a hidden gem surrounded by the Himalayas. Sikkim is like a story, waiting to be told to the world and truth be told, it has a plethora of things to offer and experiences to have. Offbeat places in Sikkim are sure to allure you to a holiday like no other. Let's go through the details of why this quaint hill state is a mountain marvel waiting to be explored in its full glory.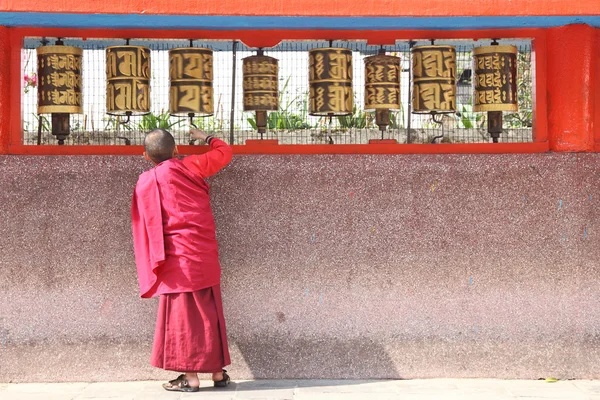 Monk turning the Prayer wheels in Sikkim
Image courtesy: pexels.com
Serenity is another name for Sikkim with its beautiful snow-capped peaks, numerous monasteries, mighty rivers, and several quaint villages beautified with colourful prayer flags, biodiversity, bountiful tea gardens and so much more. This hilly haven has an air of its own, magic which casts a spell on the visitors and boasts of a land waiting to be explored. 
How to get to Sikkim
By Air
Pakyong airport opened up in Sikkim in the year 2018. It is among the five highest airports in India. One can take a flight to Pakyong or to Bagdogra airport if the weather packs up and flights aren't operating at Pakyong. The other nearest airport is Bagdogra from where it will take you about 5 hours by road to reach Gangtok. 
By Rail
New Jalpaiguri or NJP is the nearest railway station. Private cabs are available with easy booking for travel within the state from NJP station. 
By Road
Gangtok has good road connectivity with all the cities nearby- Darjeeling which is 96 km, Siliguri at 118 km and Kamimpong at 75 km. One can take state-run buses or cabs from either of these places to Gangtok. The journey will be thrilling and full of scenic views all along the way. 
Also, cabs can be hired from New Jalpaiguri or NJP which will take lesser time and will be cost-effective as well.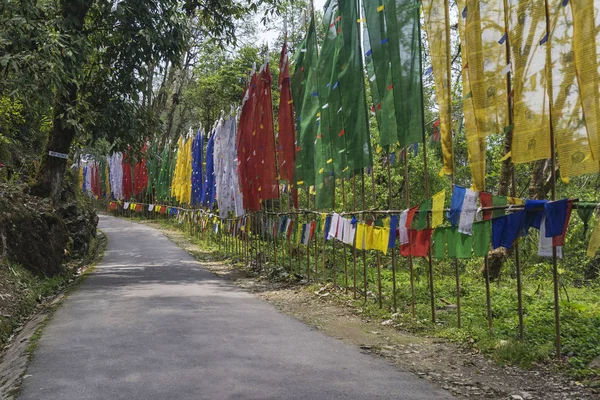 Picture depicting colourful prayer flags in Sikkim
Image courtesy: timesnownews.com
The best time to visit Sikkim is during the summer months from March to May. Monsoon months should be avoided as the area is prone to landslides. However, the clouds descending down on the hills and the mighty Teesta river in all its flow are sure to entice travel in monsoon months too. That being said, it is always a good idea to check the weather and then make the bookings. 
Culture and Language
Sikkim is home to three main tribes, the Lepchas, the Bhutias and the Nepalese. The state boasts of different customs, traditions and communities. Of course, there have been migrations from other states, but Sikkim still retains its unique identity and culture. 
Image shows Bhutia tribes of Sikkim
Image courtesy: sikkimtourism.gov.in
The language spoken in Sikkim is primarily Nepali. Other languages are Bhutia, Sikkimese, and Lepcha. There are also smaller communities that speak languages like Limbu, Tamang, Tibetan and Sherpa. 
This beautiful and bountiful state has rich traditions, customs and folk dances. The mixed population has majorly given birth to the Sikkim culture that reflects in the way of life of locals here. Even with all the diversity, the culture of Sikkim still retains its uniqueness. 
Food of Sikkim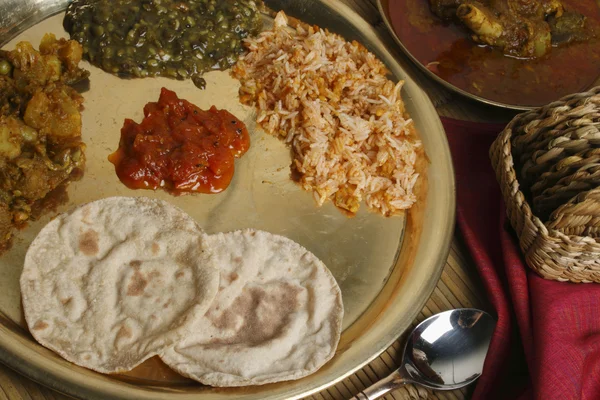 The picture shows authentic dish of Sikkim
Image courtesy: depositstockphotos.com
An amalgamation of cultures is what one gets to experience in the food of Sikkim with influences from Bhutan, Tibet, India and Nepal. Local Sikkim food has Gundruk and Sinki soups, Dhindo– made from buckwheat, fermented soybean, thukpas, and products made from fermented rice, noodles, and bamboo shoots. One must definitely not miss the momos and wantons when in Sikkim.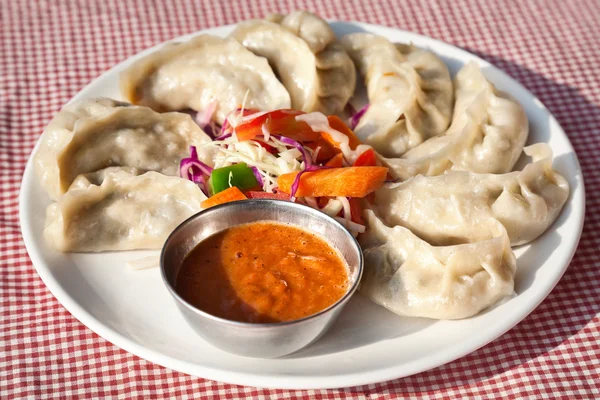 Delectable Momos of Sikkim
Image courtesy: depositphotos.com
The Sikkim momos need a special mention here. They are the most popular and authentic in this region. They have all kinds of fillings, cabbage and cottage cheese in the vegetarian options and pork, beef and chicken in the non-vegetarian ones. 
Dhindo is another notable dish of Sikkim that has its origins in Nepal. The flour for this dish is made from buckwheat or millet or sometimes wheat or cornflour too. The flour is added to boiling water and stirred continuously. Top it up with some butter and the famous Sikkimese comfort food is ready!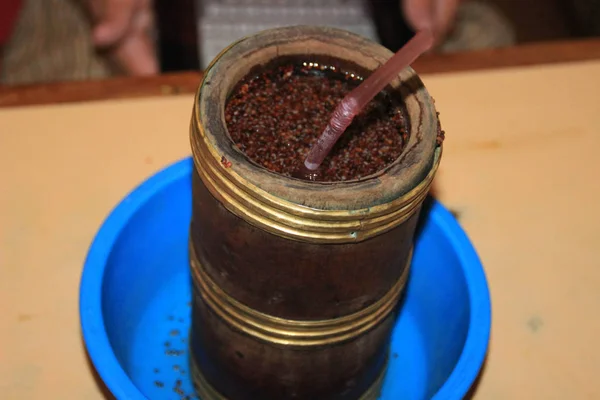 Image shows the traditional drink of Sikkim- Chhang
Image courtesy: depositphotos.com
Chhang or Tongba is a traditional drink made from the fermented form of Millet and yeast. The Limbu tribal people of Nepal are the originators of this drink. It is a locally brewed drink that is alcoholic. It is served in bamboos and is a must-try when in Sikkim!
Boiled and steamed food items are more common here with the least use of spices and masalas, other than local herbs. 
         Organic farming in Sikkim- 100% organic state
Image courtesy: depositphotos.com
Sikkim has been an all-organic state ever since the year 2016. The 100% organic crops grown here are barley, wheat, buckwheat, potato, finger millet, soybeans etc. A traditional activity that you get to see even today is the preservation of non-seasonal vegetables through the fermentation process. 
Districts of Sikkim
The state of Sikkim can be divided into four districts- east, west, north and south with Gangtok being the capital. Each part of the state has something unique to offer to the travellers.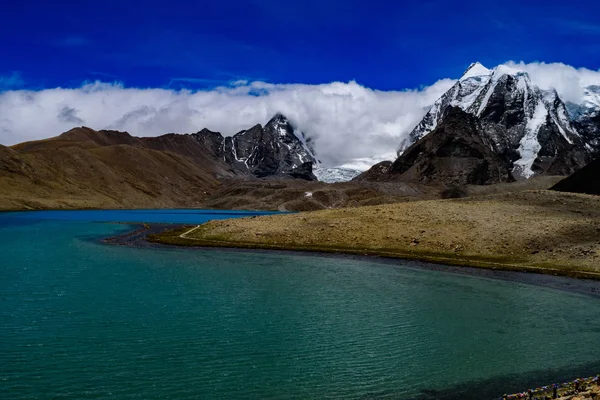 The stunning Gurudongmar lake in North Sikkim
Image courtesy: depositphotos.com
With magnificent mountain peaks, alpine lakes, lush valleys, orchards, little villages and monasteries, North Sikkim is a fascinating facet of this hill state. As a matter of fact, it is also the largest in terms of area. It is hardest to access due to the rough terrain and high altitude. 
The best time to visit North Sikkim in the summer months is April to July and October to December in the winter months. The rest of the year there is either the possibility of landslides or there is too much snow making travel difficult.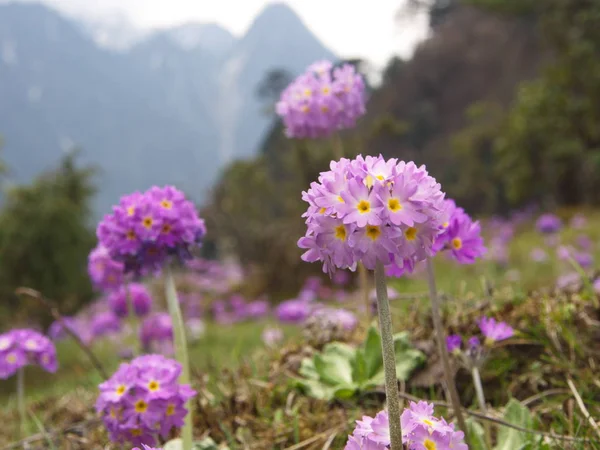 The image shows a beautiful valley of flowers in North Sikkim- Yumthang
Image courtesy: depositphotos.com
Views and tranquil hues are what your senses absorb in the areas of North Sikkim. The scintillatingly beautiful locales of Lachen, Lachung, Yumthang Valley and Gurudongmar Lake are among the many other marvels of this part of Sikkim.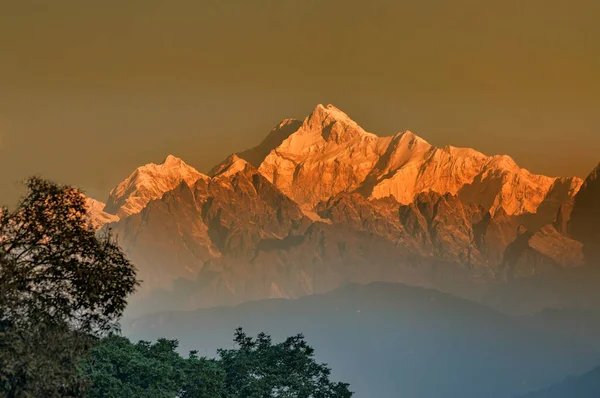 The image shows Mt Kanchenjunga, the highest peak in India in all its glory 
Image courtesy: pixabay.com
Also known as the trekker's paradise, West Sikkim has a plethora of trekking trails for adventure travellers. There are other attractions too, like the Kanchenjunga National Park, Pelling, Yuksom, Geyzing, Rabdentse Ruins, Darap village, Khecheopalri Lake, Skywalk, and Goecha La. 
West Sikkim is also known for the best views of the highest mountain peak in India and the third highest in the world, Mount Kanchenjunga at 28,169 feet.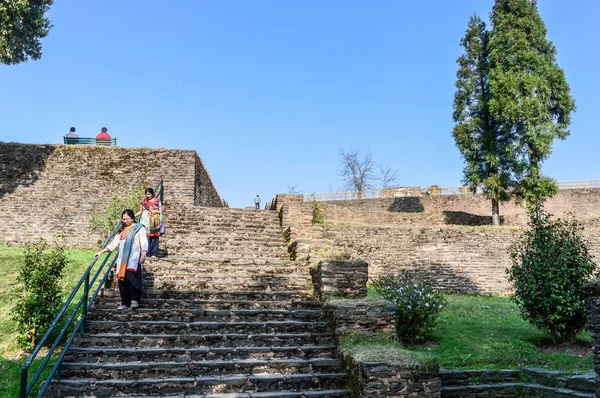 The image shows Rabdentse Ruins in Pelling, West Sikkim
Image courtesy: depositphotos.com
The Rabdentse Ruins are located at a beautiful hilltop in Pelling, close to the Pamayangtse Monastery. It was known to be the capital of Sikkim till about the 19th century. The majestic Kanchenjunga peak also lends a stunning view from this place of ruins. 
The image shows the first-ever Skywalk in Pelling in West Sikkim
Image courtesy: timesofindia.indiatimes.com
Ever walked on a Skywalk? We are lucky the first Skywalk in India came up in Pelling in the West Sikkim district. Located at an altitude of 7200 ft, the skywalk makes for a beautiful spectacle with the 137 feet Chenrezig Statue and the snow-covered Himalayas in the background.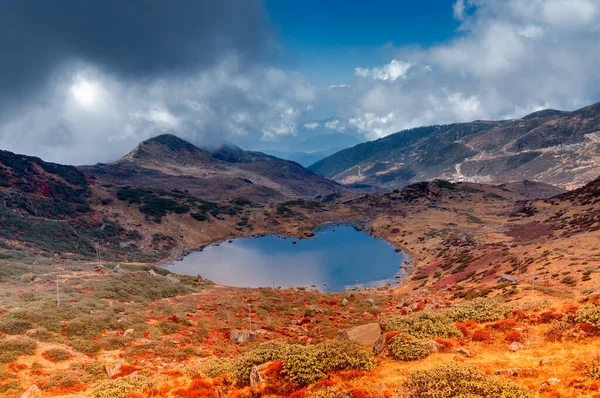 The picture shows Khecheopalri lake in West Sikkim
Image courtesy: depositphotos.com
Another site of importance in West Sikkim is Khecheopalri Lake. It is known to be a pilgrimage site for Hindus and Buddhists too. The locals are of the belief that the place can fulfil the wishes of visitors. It is a natural marvel and a very peaceful place that will truly satisfy your soul. According to legend, Khecheopalri Lake is said to be in the shape of Lord Shiva's footprint.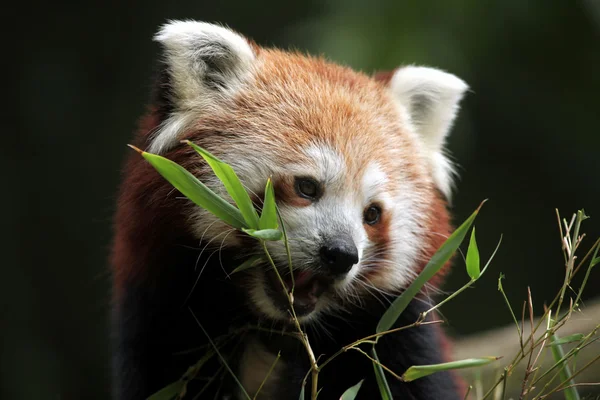 Red panda found in Kanchenjunga National Park 
Image courtesy: pixabay.com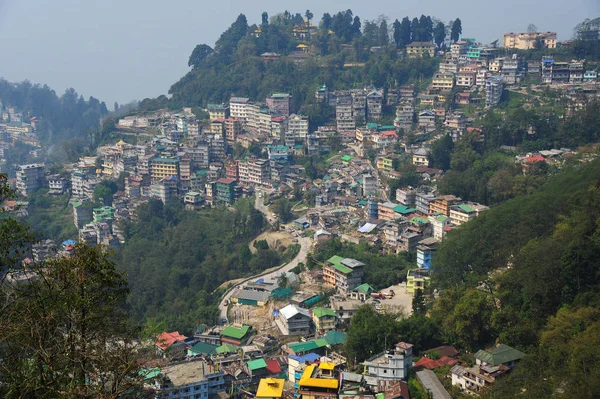 The picture shows an aerial view of Gangtok, the capital city of Sikkim
Image courtesy: depositphotos.com
All parts of Sikkim are full of surprises, the east being no exception. It happens to be the focal point of all the tourist activities as Gangtok is located in East Sikkim. 
The picture shows the vibrantly colourful Rumtek monastery located close to the capital city of Gangtok
Image courtesy:depositphotos.com
Rumtek monastery close to the capital city of Gangtok has a charm of its own. It is the largest monastery in Sikkim and gives panoramic views of Gangtok located just 23 km away. It boasts of the finest and most striking architecture in the world. Other monasteries in Sikkim are the Enchey monastery (located near Gangtok), Dubdi monastery (oldest in Sikkim), Ralang monastery and many others.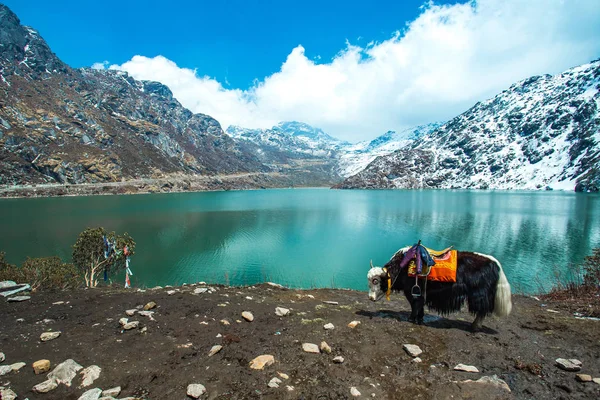 The image shows a Yak at the Tsomgo Lake 
Image courtesy: stock.adobe.com
The Tsomgo lake also called Changu lake in the local dialect is a high-altitude lake at 12,000 ft. Yaks are a special mention here found even when the lake freezes in the winter. Be sure to take a yak ride to tick it right off your bucket list. 
The Nathu La Pass (at 13,123 ft) is a border area between India and China. You need a permit to visit this place due to its proximity to the border. 
The Nathang Valley, along with Nathu La form a part of the Silk route. The valley attracts many migratory birds in the summer, till almost a little before the winter.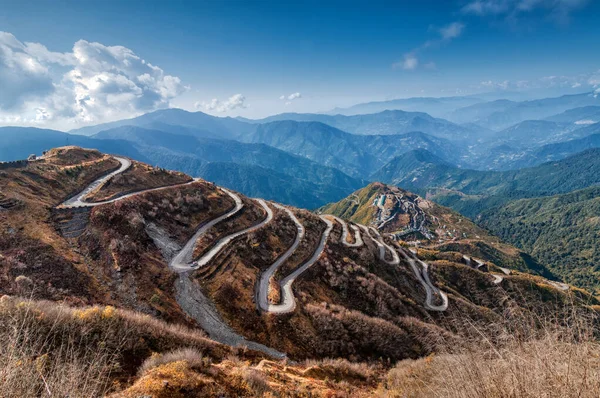 The picture shows the zig-zag roads of Zuluk in East Sikkim
Image courtesy: stock.adobe.com
Zuluk, known for its zig zag roads, lies nestled at 10,000 ft in East Sikkim which deserves a mention. It has diverse fauna and some rare birds like pheasants. Being a region near a border area, a permit is required to visit here too.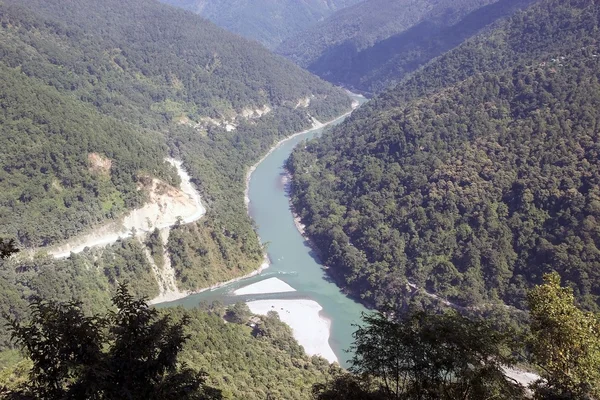 Image shows the Teesta river known as the lifeline of Sikkim
Image courtesy: stock.adobe.com
Rangpo is a township in East Sikkim, the gateway to the state. It is the border town after entering Sikkim from West Bengal. The Teesta river flows with all its might in this region and hence, Rangpo is known for river rafting. 
Jelep La is another extraordinary mountain pass perched at 14,000 ft that connects India and Lhasa. The word 'Jelep' in the local dialect means 'exquisite level' pass which is a direct reference to the landscape of the pass.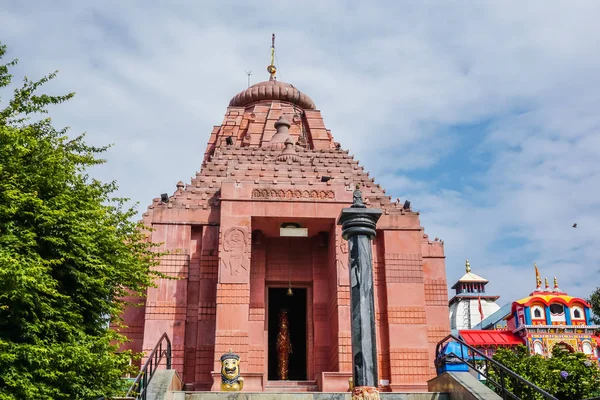 The picture shows Char Dham Temple at Namchi
Image courtesy: stock.adobe.com
The South Sikkim area is the smallest of all four districts but the most fertile. Namchi is the most important place in South Sikkim, known most for its tea gardens and replica of the Char Dham temple with a massive statue of Lord Shiva. 
An erstwhile volcanic site is now the Samdruptse Hill known for its wish-fulfilling properties. Namchi also has a huge statue of Guru Padmasambhava. 
Namchi is also known for 2 major events every year: the football gold cup and the flower show.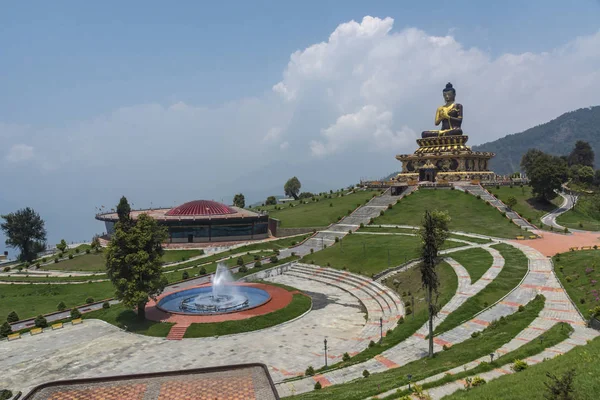 The image shows Buddha park in Ravangla with a huge statue of Lord Buddha
Image courtesy: stock.adobe.com
Ravangla, a sleepy town has recently gained popularity due to the larger-than-life statue of Lord Buddha that now forms a part of Budha park around the statue.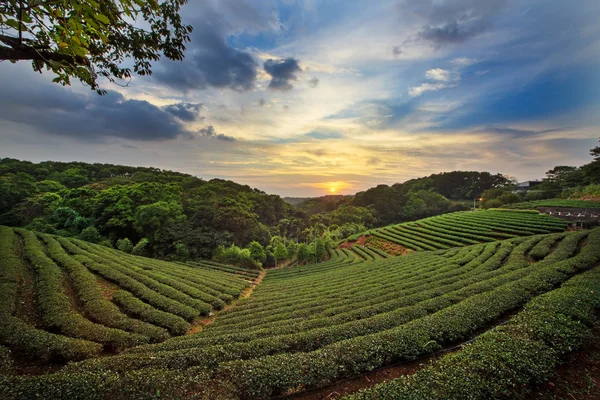 The picture shows lush green Temi tea gardens in Namchi
Image courtesy: depositphotos.com
Organic Temi tea is gaining popularity with its amazing flavours and aroma. A visit to the Temi Tea plantations in these lush green gardens calls for a special experience. 
Get in touch with us for an arranged tour of the tea gardens coupled with tea tasting and sampling. 
The banks of the Rangeet river have a quiet little hamlet by the name of Sikip. It is a fisher's paradise. It is ideal for day fishing trips and stream boating too. Camping and stargazing are other activities that are a must-do here!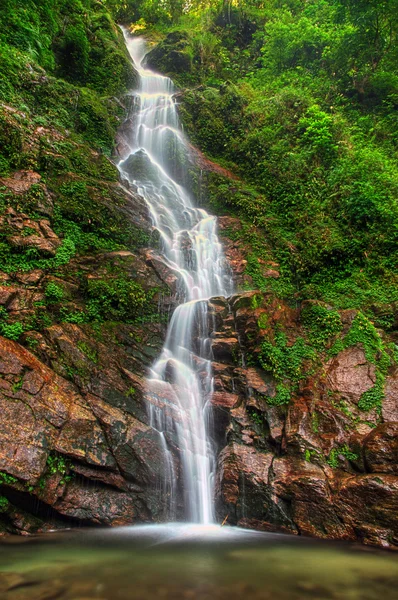 Waterfalls common to the Sikkim landscape
Image courtesy: depositphotos.com
Close to Rangeet River is the town of Jorethang in South Sikkim. Its altitude is quite mild (around 2500 ft) and therefore, it enjoys mild weather all through the year. The Akar suspension bridge is a major attraction of this town. The Maghe Mela is celebrated in Jorethang every January. 
Rustic Experiences of Sikkim
Lepchas of North Sikkim
An offbeat experience that awaits you is a chance to meet the Lepchas of North Sikkim at Dzongu village. The Dzongu village is almost virgin territory, still mostly unknown to tourists, with gorgeous lakes, lush forests and beautiful valleys.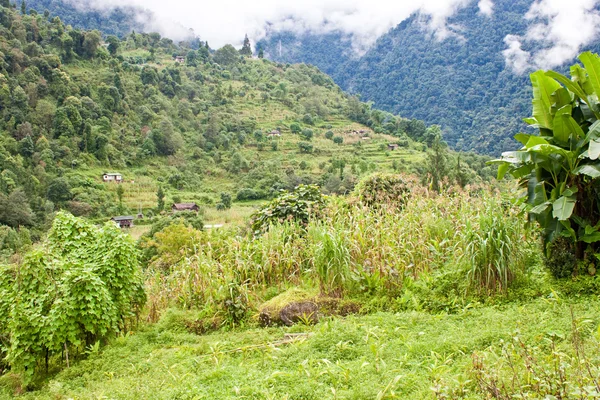 A typical Lepcha village in North Sikkim
Image courtesy: lonelyplanet.com
The Lepcha village of Dzongu has umpteen things for the visitors. Hike through the mountains and forests to witness quaint trails or just revel in the simple village air while sipping the local tea. This place is such a breath of fresh air from the hectic buzzing city life. Unwind here for an in-depth village experience. 
The image shows Lepchas of Sikkim in their traditional attire
Image courtesy: quora.com
Take a walk to the Tholung monastery in the untouched vicinity. Hike around the village for unparalleled views of this part of Sikkim's north district. The roads are clear of any traffic. Therefore, feel free to walk around and explore. Enjoy the river picnic experience with meals prepared from fresh river produce. 
Get in touch with us to meet the Lepcha community in the Dzongu village for an enriching village stay experience, authentic local food and lovely local scenery. 
Also, take a dip in the hot sulphur Spring with a traditional meal of noodle soup. 
Limboo and Bhutia tribes of West Sikkim
The Darap village, located on the Yuksom-Pelling route has a unique offbeat experience to offer you. Get in touch with us to arrange an interaction with the local Limboo and Bhutia tribes and share experiences with them. 
Limboo traditional attire
Image courtesy: en.wikipedia.com
Indulge in a traditional hot stone bath to rejuvenate yourself. This natural stone bath has amazing relaxing and replenishing properties that must surely be experienced. 
Enhance your culinary skills with traditional cooking lessons that locals provide you here. Learn authentic Tibetan and Sikkimese dishes and top it up with trying some locally brewed Tongba. 
Get in touch with us to have an amazing experience with the Limboo community, complete with taking cooking lessons. 
Hot Sulphur Springs
The banks of the Rangit River in Ravangla have two hot springs which are surely worth a visit if you are struggling with pains and aches in your body. They are sulphur-enriched therapeutic hot water springs and are known to have healing properties. 
A special mention here is of Dotho or the traditional Sikkimese hot stone Herbal bath. The water is prepared by treating with wild medicinal plants. This herbal bath will relieve any body aches and rejuvenate your mind.
Have these therapeutic experiences with us which we shall especially curate for you and your travel group. 
Milking Cows
The villages of Sikkim are untouched by the fast pace of the world. One can really experience the stillness of time here and absorb the pure air and simplicity of the village folk. 
The image shows a typical farm hike in Sikkim
Image courtesy: palighar.com
Visiting a farm to see all the organic farming in the state will certainly be a worthwhile experience. Sikkim has many special organic crops like finger millet, large cardamom, tangerine, passion fruit, Iskus or Chayote, tree tomato etc. 
The image shows organic produce from Sikkim farms
Image courtesy: palighar.com
An activity that is indeed offbeat is milking cows. This is a unique experience we provide in order to fully take in the village's appeal. For kids and adults alike, this activity is super fun and also quite a hit!

The image shows the traditional Chham dance of Sikkim 
Image Courtesy: stockphotos.com
Attend a Monastic Festival
Monasteries of Sikkim are the best to seek solace and experience peace and tranquility. Attend a Monastic festival, and be mesmerized by the colourful dances in the monastery that are sure to leave you in a trance. Behold the beauty of the Chham dancers and the air of devotion and calm.  
How we Impact
We provide a carefully crafted experience to all our guests, while also keeping in mind the impact on the environment. This is where responsible tourism at Offbeat Tracks comes in. Not only are we creating more employment opportunities by boosting village tourism but also partnering with local communities at homestays and service providers to create a self-sufficient ecosystem. 
We completely support local, whether it is food, homestays, experiences, artisans or the communities. We are in total cognisance of the United Nations Sustainable Development goals 7, 8 and 12 to work on clean and affordable energy, economic growth and responsible consumption-production in all our travels.   
Sikkim is paradisiacal land which is quite unexplored and underrated. Its beauty and views are unmatched and the experiences it can provide are multi-faceted. Come, let's explore this hamlet in the hills.