The lesser-known marvel of a hamlet called Lachung is nestled high up in the North Sikkim mountains at an elevation of around 9,600 ft asl. The region is adept with rhododendron sanctuaries, magnificent mountains, diverse flora and fauna and peace-calling locales. The Lachung river (called chu in the local dialect) meanders through the town of Lachung and divides it into two parts. Apples, apricots and peach orchards are all over and lend beautiful sights to watch in full bloom.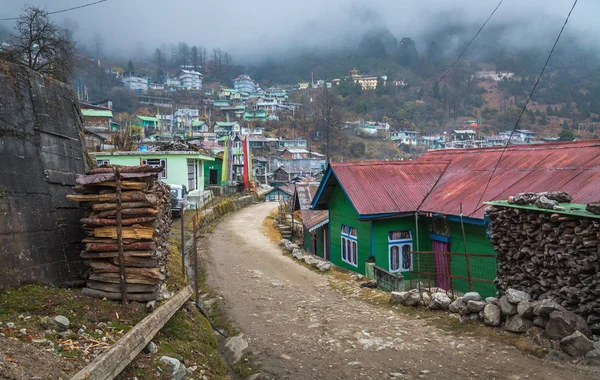 Lachung town- the simplicity of village living
Pic credits: depositphotos.com
The state of Sikkim is a beauty that is yet to be explored in its full glory. Even lesser known than the 7 sister states of the northeast is the little state of Sikkim. It shares its borders with Tibet, which is why one gets to witness a heavy Tibetan influence all over Sikkim. Both tributaries of the mighty Teesta river, Lachen and Lachung make a confluence where Lachung town is situated. The word 'lachung' means a 'small pass' in the local dialect. 
The locals living in Lachung mostly belong to the Lepcha and Tibetan communities. Lachung also serves as the base camp for the touted Rhododendron Valley Trek that has Yumthang Valley as its starting point ending at Lachen valley. The British explorer Joseph Dalton Hooker, in his definitive book, The Himalayan Journal has described Lachung as the most picturesque village of Sikkim. It also may be noted that Phuni, near Lachung, is the best place for skiing in Sikkim. 
Add skiing at North Sikkim with snow-blanketed areas for winter fun in your itinerary!
How to get to Lachung
By Air
The nearest airport is Bagdogra in Siliguri. It is connected with the whole of the country by direct flights. You can hire a cab for your 125 km road journey from Bagdogra airport to Lachung which will take you close to 4 hours. 
By Rail
New Jalpaiguri in Siliguri is the nearest railway station to Lachung. It is at a distance of about 190 km and is well connected to Delhi and Kolkata. The most convenient way is to drive down to Gangtok by hiring a taxi or a shared jeep. 
By Road
The road conditions from Siliguri to Gangtok are mostly fine except for certain stretches which are prone to landslides. Those areas have poor road conditions, though there are efforts to ensure the roads are mended well in time. On the other hand, the road further up from Gangtok to Lachen and then further up to Lachung has bad patches here and there. This is the reason your travel time will be more. Do keep some extra time up your sleeve. The mean altitude of Lachung is about 9200 ft asl with beautifully pleasant summers and cold winters. 
Best time to visit Lachung
Lachung in Summer
The best time to visit Lachung is the summer season, hands down! The weather is moderate with temperatures of 10 to 28 degrees Celsius. The season is on from March to about mid of June. There is a splendid rhododendron display spilling all over which is a sure attraction. The bewitching beauty of these flowers will enchant you!
Winter in Lachung
Lachung sees cold winters that last for long. Officially, the season begins in the month of October and goes on till about mid-February or March. The temperature range is from 10 degrees Celsius to -5 degrees Celsius. Winter is an idyllic time with cold, crisp air and fresh snowfall every now and then. 
Monsoon in Lachung
July to September are the monsoon months in Lachung. There is torrential rainfall in the whole village and many of the areas become inaccessible. This is the reason it is a shoulder season. But, like it is said, why not be offbeat and explore the beauty of clouds descending on the mountains giving a surreal vibe all over. The waterfalls are in full force and lend spectacular views. 
Lachung Gompa, and Handicraft Centre are important local attractions of interest to the visitors. Most of the houses here are made out of pine wood and have all wooden interiors. Lachung and its true essence lie in the fact that the village still retains its age-old traditions which are true to Sikkimese roots. 
Locals of Lachung performing a prayer meeting in the monastery
Pic credits: Chador Lachungpa
A point to note is that it is the only place that still follows a system of governance in which the disputes of locals and villagers are solved by Pipon, the head of an elected body. This system is called Zumsa which is unique to this place. 
Places to visit in Lachung
Bhimnala Falls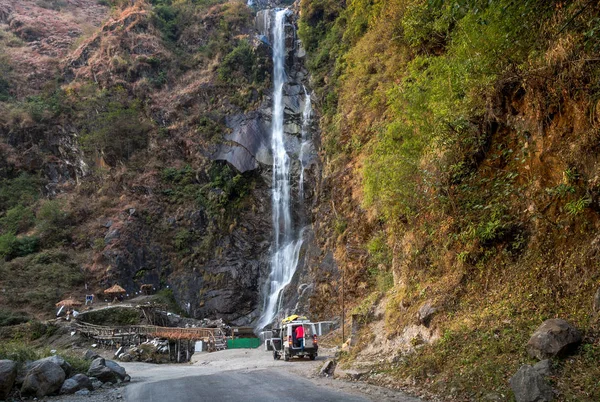 Bhimnala Falls in Lachung
Pic credits: depositphotos.com
On the road that connects Chungthang to the Yumthang valley, and the road that leads from Lachen to Lachung are these beautiful cascading falls. Another name for them is interestingly the Amitabh Bachchan Falls owing to the height they fall from. 
Take stunning pics with the Amitabh Bachchan falls and other interesting spots in Lachung on your next Sikkim holiday with us!
Lachung is actually divided into 5 prominent parts: Singring, Katau Road, Bitchu, Sharchok and Faka. You must check out the torrents of the Yumthang river and ultimately reach the Lachung monastery which is the most blissful and calm place. 
Lachung Monastery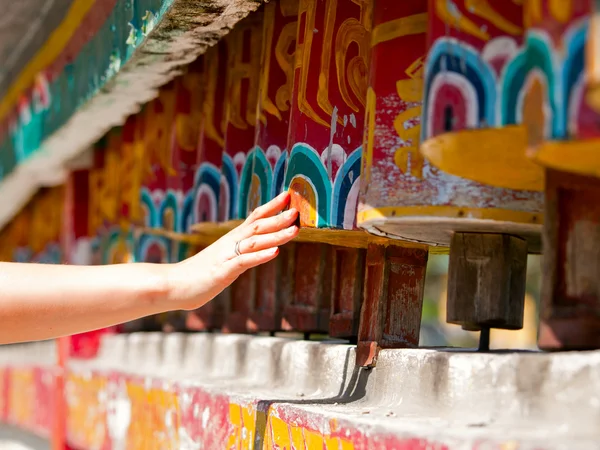 Prayer wheels at Lachung Monastery
Image courtesy: depositphotos.com
The mesmerising Lachung monastery has some exceptional murals and ancient statues. December every year sees the celebration and performances by monks for religious dances. Visitors flock from all over the country to the Lachung monastery at this time of the year. For the entire day, the monastery remains partially closed. However, the early morning hours see only Buddhists entering the shrine to offer prayers. 
Areas around Lachung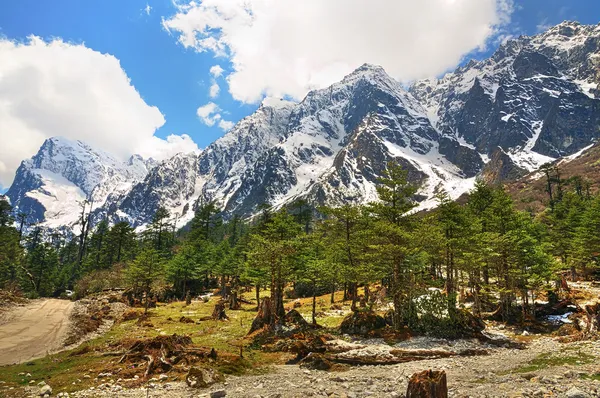 Snow-capped peaks at Lachung
Pic credits: depositphotos.com
For all the important and farther treks, Lachung acts as a basecamp. Treks of the likes of Zero Point, Shingba Rhododendron Sanctuary and Yumthang Valley start from here. The Yumthang Hotspring is a lesser-known marvel that has healing properties and a dip in these hot waters cures the body of many aches and pains. 
Take a dip in Yumthang hot springs followed by a delectable lunch all curated especially for you!
Shingba Rhododendron Sanctuary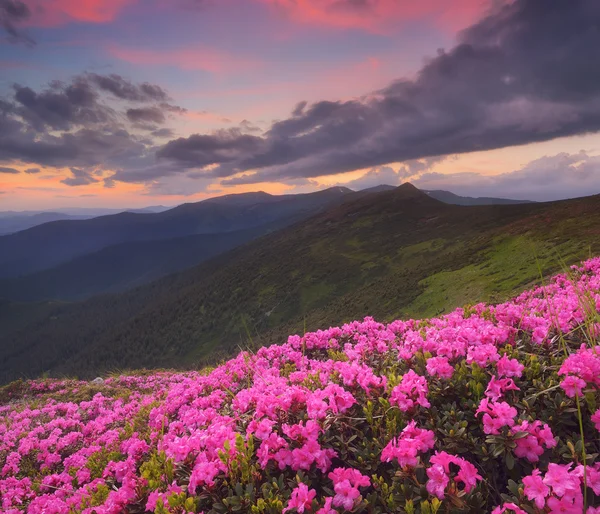 Rhododendrons in the Rhododendron Shingba Sanctuary
Pic credits: depositphotos.com
When you embark on to Yumthang Valley from Lachung and then drive further up to Zero Point, the gorgeous Shingba Rhododendron sanctuary falls just 8 km off of Lachung. A landscape that resembles a mix of Japanese and Indian blend, the snow-capped peaks and beautiful rhododendron trees are what the views lend your eyes. The Chuba-Sagochen ranges lie on the east side and the west with Lava Pass, the sprawling sanctuary is perched at a whopping altitude of about 10-15000 ft asl. The whole of the landscape has rocks that are dotted with red algae on the surface.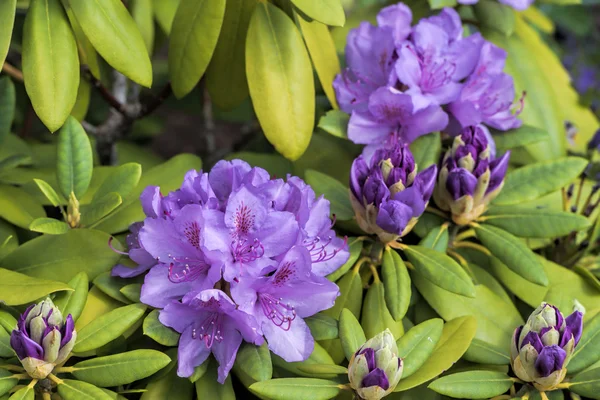 Purple Rhododendrons blooming in Lachung
Pic credits: depositphotos.com
The Yumthang chu (river) flows all through the sanctuary lending it a stunning landscape. A rich vegetation and flora and fauna all around, there are more than 40 species of rhododendrons found here. The Rhodos bloom from April to July, though the sanctuary is home to other trees like poppies, gentians, potentillas, aconites, and saxifrages among many others. There is a literal Holi of natural blooms and colours splashed everywhere in these summer months.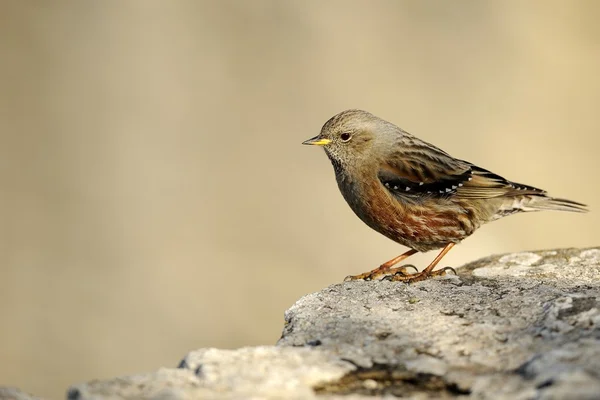 Alpine accentor and many other exotic bird species found in Lachung
Pic credits: depositphotos.com
The sanctuary is also a paradise for bird watchers with a plethora of varieties to spot, like blood pheasant, rufous bush robin, yellow-bellied fantail, alpine accentor, white wagtail, fire tailed sunbird and many other exotic breeds. 
Myriad animal species are also found here like the blue sheep typical of the Himalayas and others like the goral, Tibetan wolf, Himalayan black bear, otter, musk deer, serow, and the lucky ones may even spot the elusive snow leopard or the untraceable red fox.  
Add bird-watching activity to your itinerary for a pleasurable time in Lachung and around. Curated and customised according to your preferences, guaranteed!
Zero Point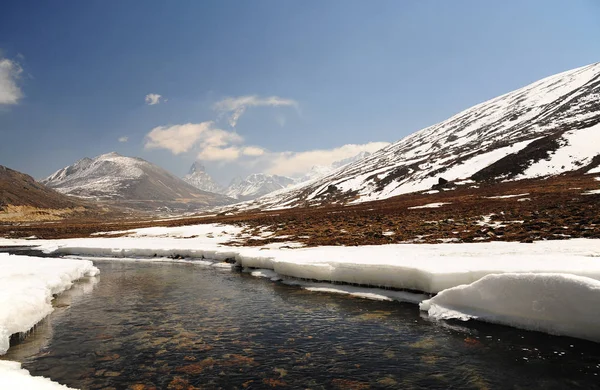 Snow mountain and stream flowing at the Zero point
Pic credits: depositphotos.com
From Lachung, you go to Shingba, Yumthang and finally Zero point, zero point being the last outpost of civilization and a sure adventure in toto. Zero point,  also known as Yume Samdong stands at a height of 15,300 ft asl. This is a very high altitude and therefore is not recommended for people with heart conditions, pregnant ladies and hypertensive patients too. We advise you to always keep yourself hydrated, sipping on water and also warm beverages like tea, and coffee available at the quaint little tea shops around. It is the last outpost of civilization and is also the place that boasts of the confluence of three rivers lending it a splendid view of the encompassing mountain range mostly covered in snow. 
Red, yellow and green hues pave way for your welcome enveloped by snow-topped peaks as you near Zero Point. Trees and valleys line the path and make the drive scenic and enjoyable. The glory of abundance, hairpin bends, gorgeous maple trees with snake barks and some extensive fauna are what you witness here for an enriching experience. Peacock orchids, Himalayan poplar, Sikkim fir, and acacia trees are some of the myriad varieties found here. 
A fun thing to do en route is to stop at the Daring La Cafe close to the Shiv Mandir Check post. This cafe is managed and run by the army and after another few kilometres is the Yumthang Valley point that lends unparalleled views of the whole of North Sikkim!
Embark on the Zero Point visit and en route fun with a curated experience for your travel group with us. Contact us now!
As you near Zero Point, floating clouds make you feel surreal and wish you well for your onward journey to the end of civilization at the border area. Civilians are not allowed beyond this point as the China border lies at just shouting distance from here. 
There are a number of eateries around and we advise you to keep hydrated and have maybe a cuppa Maggi to keep yourself warm too! Old Monk is available in surplus here and it is another good idea to keep yourself warm in the soaring heights ;)! The idea is to avoid any motion sickness by keeping hydrated and munching something or the other every now and then. This area is covered in snow most of the year round and this is the reason it is one of the best places in Sikkim to have some snow fun!
Yume Samdong Hotspring
When you are en route to Yumthang via the Zero Point, there is a small detour option but very rewarding as you get to visit the Yume Samdong Hotspring also known as the Momay Samdong. The drive is challenging for sure but the views are breathtaking and the hot spring itself is located at the base of the Donkia-la Pass. All your fatigue gets washed up by these waters. During the months of July to September, the spring water is believed to have healing and medicinal properties. 
Take a dip in the best-kept secret of North Sikkim that awaits you with healing and therapeutic properties.
About a few years ago, vehicles couldn't reach this place and one had to walk 3-4 km to reach the hot springs. Thanks to the Indian Army, a narrow but rugged route has been made to ease things out for the visitors. The pond is open for use by men and women, and a small khopcha (enclosed bathing area) is made for privacy.
They say the true essence of the place and the therapy to work in the best way for you is realised if you observe complete silence and meditate in the surroundings. Feel the magic with calmness and actual realisation of the richness of these springs. 
Yumthang Valley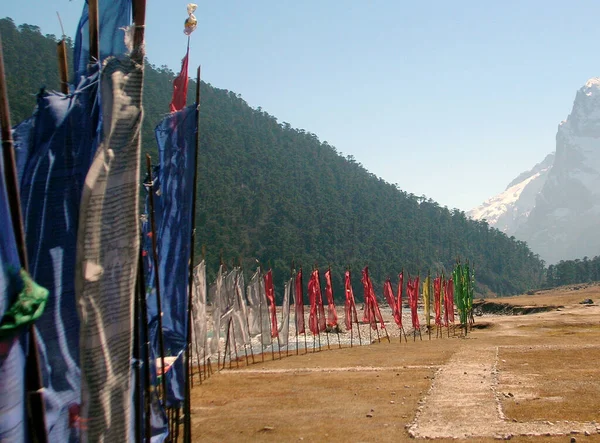 Colour flags lining the Yumthang Valley
Pic credits: depositphotos.com
A river flowing right through the gentle valley with snow-covered peaks and tall pine trees welcome you with open arms at the Yumthang valley. One of the best tourist places in Lachung, the yaks and grassy plains where they graze will seem like scenery right out of a painting. Perched at an elevation of 11,800 ft asl, this place is a paradise for those who feel a connection with nature. Rhododendrons and primulas lend this place a surreal feel and the spring season is one to behold in this verdant valley. 
Add the valley of flowers- the Yumthang valley to your North Sikkim itinerary for an enchanting experience and make memories for a lifetime!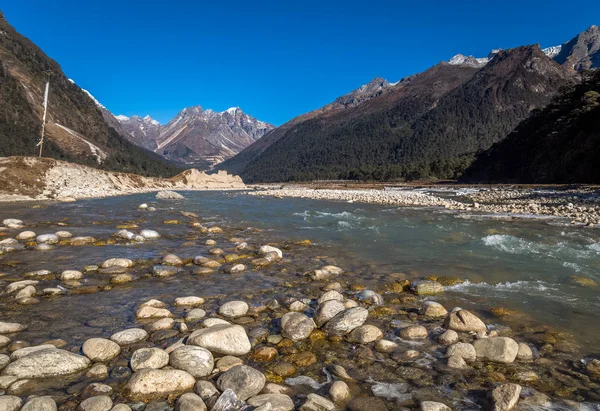 Yumthang valley in summer
Pic credits: depositphotos.com
An interesting fact to note is that the valley is located at the 'tree-line' which is a term that describes the altitude beyond which no trees are found. This is what adds to the uniqueness of it all. A rich biodiversity and flora of varying varieties are what the valley boasts of, together with about 24 varieties of Rhodos! (That's surely some variety!!)
The valley of course blooms and blossoms in Spring but that may not be the only best time to visit Yumthang. Monsoon too sees the valley with blooming louseworts, silver fir trees lining the valley and lush green forests. Leisure family time or time with your travel group is spent in the best way here in the valley. 
Tick Yak safari off your bucket list for a cutesy experience with us! 
You will realise that this valley makes you feel laidback and revel in nature's bounties. All you want to do is just relax and unwind amidst picturesque locales and soak in all the positivity, and fresh clean air with an AQI as low as 10! Pretty white flags line the localities till where your eyes wander and it instils a sense of calm and tranquillity to further your mind-numbing experience. 
All in all, an escapade that is waiting to have you over, with the attraction of the least crowds, tranquil settings, umpteen things to do, and the close proximity to the heavens with an altitude so high that you feel the Gods can listen to your prayers right through. Come and get lost in the wilderness of North Sikkim, with Lachung as your base and the whole of the district for you to explore! Believe me, if you don't feel time stands still, your trip is on us!! 
See you there!