We all know Assam to be a popular state in northeast India but have you ever heard of Majuli? Well, I could guess a "No". It is touted to be the largest river island in the world. This offbeat and charming locale has a fairytale-like landscape and you will be pleasantly surprised by it whenever you visit here. Situated amidst the mighty Brahmaputra river, this island is a marvel, lesser known to the outside world. Majuli takes pride in being the cultural capital of Assam and has two major towns called Garamur and Kamalabari along with many villages. 
This popular tourist place of Assam seems like a quaint and quintessentially offbeat destination that is far away from the woes of the modern world. One can really experience the unperturbed uniqueness of nature in this pretty oasis. Majuli also takes pride in being the largest riverine island in the world. Enough reason to explore it in totality? I would say, "Yes"!
The whole island exists as an entity in itself with the locals living in bamboo huts, fire cooking and many other archaic things. You will feel a serene subtlety, a glorious abundance of natural beauty and vivid wildlife all over the island. The main village called Naghmar is the cultural capital where all the festivals and events take place for innumerable years. Raas Purnima is the most important event that takes place here. The surreal dance performance depicts the life of Lord Krishna. Other major festivals are Bathow Puja and Paal Naam.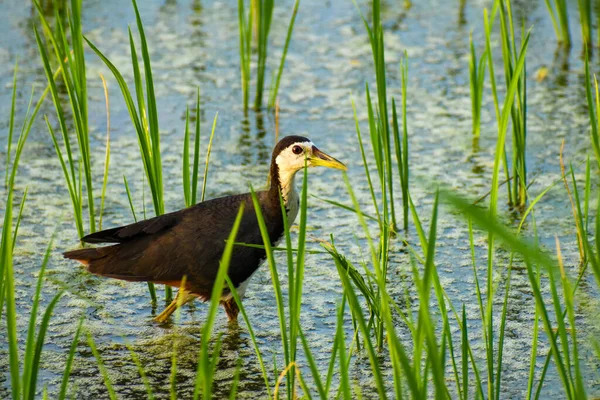 White-breasted waterhen in Majuli
Pic credits: depositphotos.com
Majuli also has 22 Vaishnava Satras that date back to the 15th century. Many tourists visit them every year and this is the reason it is one of the most famous tourist places in Assam. Birders are in for a sure treat as this place is a haven for birds. There are many migratory as well local birds found here, like kingfisher, white-breasted waterhen, storks, egret, and purple moorhen.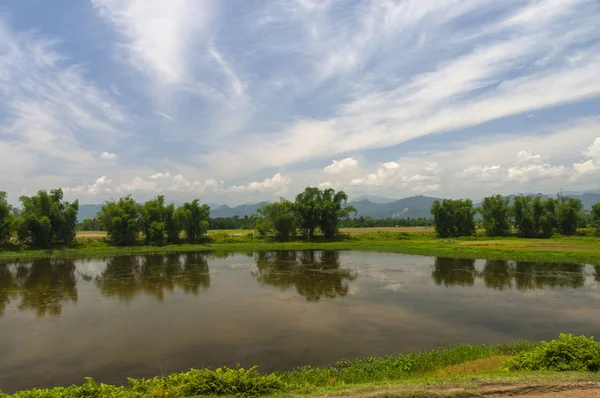 Lush greenery at Majuli Island in Assam
Pic credits: depositphotos.com
Indulge in some birding activities at Majuli for the most amazing experience of spotting migratory birds. 
Best Time to Visit Majuli Island
Since the island is nestled in the middle of the river, there is a risk of floods almost every year. This is the reason the monsoon is not the best time to visit here. On the other hand, summertime sees rising temperatures and therefore, this is also not a recommended time of the year to visit Majuli as it makes travel a little difficult. Therefore, the winter months from November to March are the best time to visit Majuli Island. The weather is pleasant and viable to explore this beautiful place in all its essence. 
How to Reach Majuli Island
The best way to reach Majuli Island is via Jorhat. The Nimihat Ghat in Jorhat is a river port that has ferries to the island at different scheduled times between 9 am to 3 pm daily. The boat journey takes about an hour and once you reach the port called Kamlabari Ghat, you can take a bus or a cab for an onward journey to the island. 
Nearest Airport to Majuli 
The nearest airport to Majuli is Jorhat which is at a distance of 2 hours from Majuli. Flights are flying from Kolkata and Delhi to Jorhat. 
Nearest Railway Station to Majuli
The nearest railway station to Majuli is Mariani which is about 20 km away from Jorhat. Trains from Dibrugarh and Guwahati are available to reach the Mariani station. 
Where to stay at Majuli 
There are options of decent hotels and guest rooms when it comes to staying options here. The hotels are decent with basic facilities like free Wifi and bike on rent available to explore the nearby areas. 
Places to Visit in Majuli
The largest river island in the world- Majuli
Pic credits: offbeatracks.com
This pretty little island has much to offer its visitors, the attractions are many and sure to attract you with their tranquil aura. 
Tengapania
Depicting a structure of Ahom architecture, Tengapania looks like a golden temple with pointed pillars and stunning statues. This place is located very close to the Brahmaputra river and therefore, it is a good idea to have a picnic or just have some chilling time here in the lush greenery within Majuli island.  
Kamlabari Satra
Kamlabari Satra stands as a symbol of art, culture and literature for centuries. It is definitely many years old but the stunning architecture is simply beautiful. Intricate designs adorn the ceilings and walls of this famous tourist attraction in Maujli. The ceilings are decorated in the most beautiful fashion depicting the Assamese culture. 
Auniati Satra
Auniati Satra was founded by Niranjan Pathakdeva and is known to have an extraordinary collection of Assamese jewellery, artefacts and utensils. It is true for all buildings here at Majuli that the architecture is majestic and also has lion statues on each side of the gateway. This Satra is the epicentre of Satriaya and Vaishnavism culture in Assam. There are performances of Satriya songs and dances here. 
Dakhinpat Satra
Dakhinpat Satra is yet another place that is a major tourist attraction on Majuli island. It is a historical monument established in 1584 and the aesthetic architecture defines it. The sculptures and paintings on the walls depict the culture of this Satra. Rasotsava festival is celebrated here. This is without any double one of the best places to take a peek into the rich cultural heritage of Assam. 
Garmur
A religious centre of the Vaishnavite tradition, Garmur has a series of pillars that support the building roof. There are also many artefacts together with the literature found on the Vaishnavite tradition. If you are someone who wants to learn more about Assamese culture, then Garmur is the best place in Majuli. 
What to eat at Majuli
If you stay at a few homestays that are native to the place, there are nice meals on offer that give the most local flavours like Porag aapin or rice cooked in a leaf, Pamnam fish and chicken which is baked in a banana leaf, vegetables and chicken or pork cooked in bamboo pipes. 
A four-day trip to Majuli is the ideal time to spend and explore this island completely. We also recommend you to club Kaziranga National Park, Majuli and Kamakhya temple in one trip as all these places are not very far from each other and can be visited in a one-week trip itinerary to explore all of these places in the best way. 
Offbeat Activities in Majuli
We have already mentioned the best tourist places in Majuli. Now, let's see what offbeat activities you can indulge in over here for the most fulfilling holiday experience. 
Bird Watching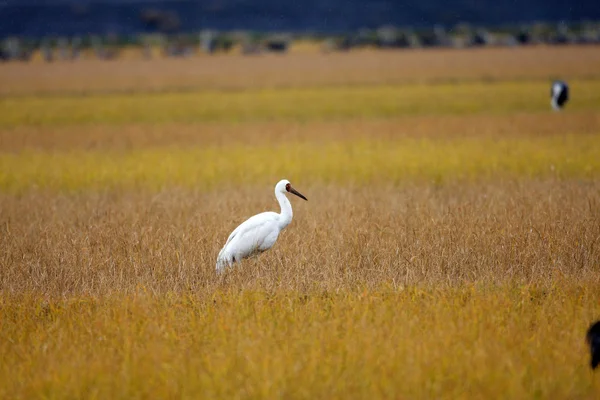 Siberian Crane at Majuli Island
Pic credits: depositphotos.com
A must-do activity at Majuli Island is bird watching since this place is home to myriad migratory and local birds that flock to the island in the winter season. Some species that you can get to watch are Siberian cranes, pelicans, storks, and whistling teals. On the other hand, geese and ducks are seen commonly all over roads and wetlands. 
Village Tour
Village in Majuli Island in winter
Pic credits: offbeatracks.com
A village tour of Majuli Island to watch tribal and farming communities is indeed a rewarding experience. The lovely culture and traditions are showcased in the best way here. The region is also known for the ancient craft of hand looming which is a common sight to see here. 
Take a village tour of Majuli Island with us to have the most authentic experience exploring the Assamese culture and traditions in the best way!
Cultural and Pilgrimage Tour
It is a known fact that there are several visitors who flock to this island for pilgrimage and undertake a culture tour. The 22 Satras of the island uniquely depict the culture and traditions of Assam. For the uninitiated, Satras as centres or institutes where they perform plays, offer prayers and impart knowledge. These satras date back to the 17th century with Chamaguir as a prominent one that can be visited at Majuli Island. You will get to see traditional masks being made here which are based on the Ramayana and Mahabharata characters. 
Majuli is a great offbeat destination that is ideal for slow and responsible travellers, who really revel in Mother Nature's bounties and really absorb all the elements that make up the world. It is undoubtedly one of the best places to visit in Assam and must most definitely be on your next itinerary list. There's so much nature to soak in here, and much much more!