A favourite for cultural, culinary and offbeat travel, Vietnam offers a unique and welcoming charm to its visitors. This outstanding and offbeat South Asian country has a plethora of things that it offers to the offbeat traveller. There is much to explore, from an unparalleled legacy of rich and diverse culture coupled with a traditional lifestyle in contrast with the bustling cities and enthralling locales. Mountains, jungles, beaches, rivers, gardens, cliffs, delta, you name it and this country has it. 
Whether it is serenity, beauty or vibrancy that you are looking for, Vietnam has it all for you. Let nothing keep you from planning one of the best trips of your life to Vietnam. Ensure this location is on your bucket list to get an unforgettable vacation experience. 
Vietnam is a country with vast scenic splendour. It is right to say that Vietnam is like a postcard destination. There is just so much to see, so much one can explore, and so much of nature, culture and history to delve into. 
Best time to Visit Vietnam
The climate of Vietnam differs from one part to the other owing to the vast expanse of the country. Depending on which part of Vietnam you wish to visit, the best time to visit will also differ. Nevertheless, the autumn months from September to December and Spring time from March to April are the ideal months to visit Vietnam. 
How To Get To Vietnam
There are three international airports in Vietnam- Noi Bai Airport in Hanoi, Tan Son Nhat Airport and Da Nang Airport in Ho Chi Minh City. Direct flights of Indigo and Viet Jet from the major metro cities of Delhi, Kolkata, Mumbai, Hyderabad, etc. are available for Ho Chi Minh City and Hanoi.  There are many low-cost carriers (LCCs) like Air Asia and others that also give the option to get to Vietnam via Kuala Lumpur. 
Places to visit in Vietnam
Vietnam is divided into North, South and Central zones and there are varied places to visit in each province. Let's take a look at them: 
Northern Vietnam
Hanoi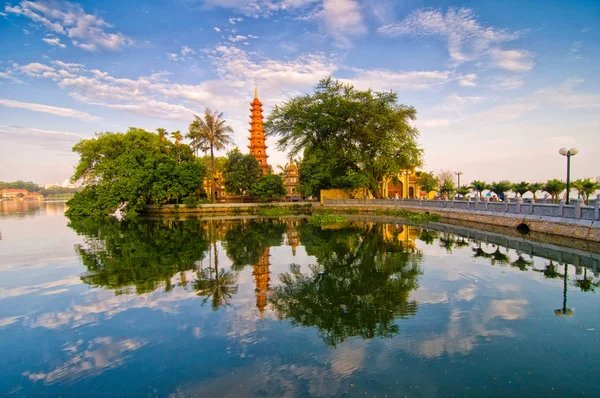 Tran Quoc pagoda in Hanoi, Vietnam
Pic credits: depositphotos.com
The capital of Vietnam is Hanoi, most known for its rich culture and history. There are several historical sites here like the Old Quarter which is also a UNESCO World Heritage site. The place is bustling and has all the charm of a bustling capital city. A must to do here is to take a street food tour of Hanoi. 
Add the street food tour of Hanoi to your bucket list of Vietnam for the most amazing culinary experience. 
Ha Long Bay
The beautiful Ha Long Bay in Vietnam
Pic credits: offbeatracks.com
Another popular place to visit in Northern Vietnam is Ha Long Bay. Situated in the northeastern part of the country, the bay is known for its stunning limestone cliffs and emerald-green waters. One can take a boat tour to explore the bay area and visit the many islands there too. We recommend going in for iconic views of Halong Bay on an overnight tour as the day tours do little justice to the beauty of the place. 
Explore Ha Long Bay for a stimulating time to be close to nature and have an off-the-beaten-path experience!
Sapa
Lush green paddy fields in Sapa
Pic credits: offbeatracks.com
The most scenic rural vistas found in Vietnam definitely belong to Sapa with the lush green paddy fields and mountain peaks of Hoang Lien Mountains. Fansipan mountain which is the tallest peak in Vietnam is also situated in Sapa overlooking the terraced rice fields. This of course is the most sought-after trekking destination in Vietnam, also popular for hikes between tiny villages and stunning mountain views. 
The bustling old feel hill station of Sapa is a major tourist attraction in Vietnam and has countryside that is known for tranquillity on its one end. 
Southern Vietnam
Ho Chi Minh City
Ho Chi Minh City in Vietnam
Pic credits: offbeatracks.com
Another popular tourist destination in Vietnam is Ho Chi Minh City, also known as Saigon. Boasting a vibrant nightlife, historical sites and bustling streets, there's so much on offer for the offbeat traveller. One can explore the important sites of the Vietnam War, the War Remnants Museum and Reunification Palace. 
Mekong Delta
The Mekong river
Pic credits: offbeatracks.com 
The Mekong river finally joins the sea in the country's far south. Just when it enters the sea, there is a maze of waterways with mangroves, paddy fields, floating markets and much more. 
Can Tho acts as a base as its location is close to the floating markets of Cai Rang and Phong Dien. You can also take boat trips to explore the Cau Mau Nature reserve and the U Minh Mangrove forest for a one-of-a-kind experience with nature. 
Take a boat trip with us through the Mekong Delta to explore nature galore!
Hoi An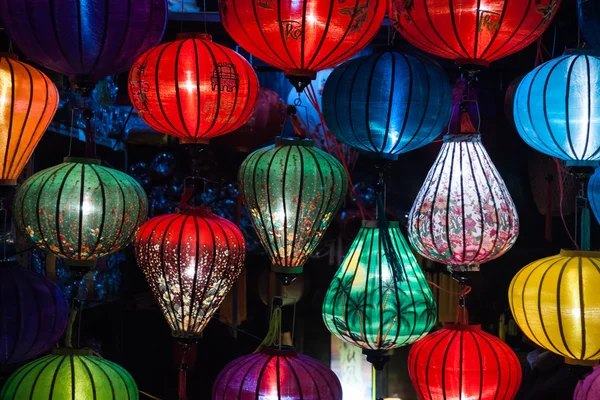 Colourful lanterns at Hoi An
Pic credits: depositphotos.com
The beautiful city is also known for its colourful Lantern festival that sees the most vibrant colours and a festive air filling the entire atmosphere. This is a must-attend festival in Vietnam.
Attend the Lantern festival at Hoi An for the most unparalleled, colourful and vibrant experience in Vietnam!
A city with tons of historical architecture, Hoi An is a joy to explore. This town was a meeting point for the Chinese and Japanese merchants who visited here for the local silks. Numerous merchant houses are open to the public and you can get a good idea of the olden times on your visit. Tan Ky House is the best one which has decorative items and amazing architecture still preserved.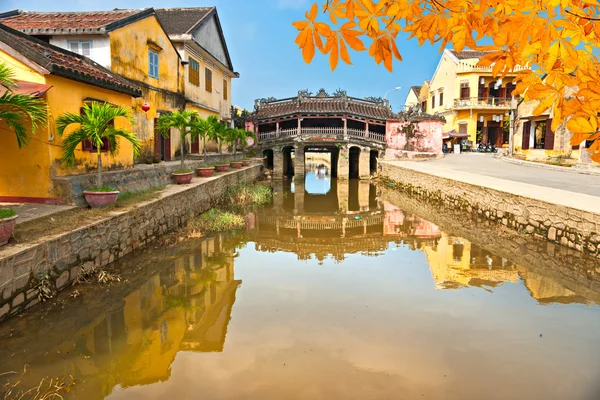 Japanese bridge at Hoi An in Vietnam
Pic credits: depositphotos.com
The major symbol of Hoi An is the Japanese bridge at Rean Phu Street. The true charm of this historical place is in walking through the old streets and admiring the well-preserved pagodas and buildings. 
Central Vietnam
Phong Nha Ke Bhang National Park
Inside view of caves at the Pho Nha Ke Bang National Park in Vietnam
Pic credits: offbeatracks.com
For those having a bent towards caving, the Phong Nha-Ke Bang National Park is World Heritage-listed. It has some amazing stalactite and stalagmite structures that are sure to make you feel awe at nature. 
The Paradise Cave is a popular place in the park which actually extends about 31 kilometres below the ground. The Tu Lan Cave is a wet wave, meaning one has to swim through the river in cave systems to visit here. These caves are the largest in the world. Trekking in the Song Doon caves is one of the most sought-after things to do in Vietnam.  
Hue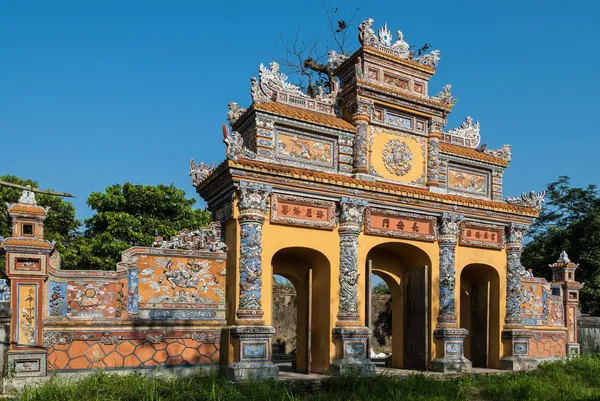 Forbidden City in Hue, Vietnam
Pic credits: depositphotos.com
One of the most historic towns in Vietnam, Hue features relics from the 19th century. The place is situated along the banks of the beautiful Perfume river. There is much to see here, right from the Forbidden City to Ngo Mon Gate to the Thai Hoa Palace and Halls of Mandarin which still has preserved ceiling murals. 
Take a riverboat cruise in the Perfume river to explore all of these sites in Hue. Visit pagodas and the royal tombs for a fulfilling experience. 
Da Nang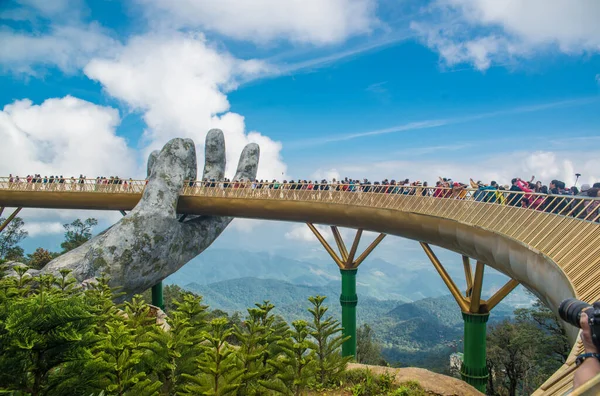 The most famous tourist spot in Vietnam- The Golden Bridge
Pic credits: depositphotos.com
Da Nang is a place most known for its golden bridge, relaxed beaches, sumptuous street food, Son Tra Peninsula with forested hillsides and some intriguing wildlife spotting. The seafood eateries on the beaches are sure to provide an awesome culinary experience for the travellers. 
Culture and Language of Vietnam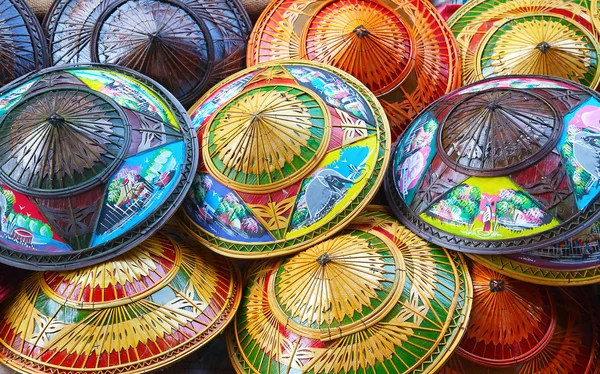 Colourful rice straw hats of Vietnam
Pic credits: depositphotos.com
The first and foremost thing that one notices on arrival in Vietnam is that the people here are very warm and welcoming. Foreigners in Vietnam are treated as honoured guests. Vietnamese are very gracious people and they have a genuine liking for a joyous exchange with their visitors. Literally, you will feel right at home and it is not surprising if you get invited to a local's home for tea! English is compulsory in all Vietnamese schools and children on the street will also willingly greet you in English. 
Vietnamese are a festive lot. Whenever you happen to visit the country, there will always be some celebration or some festival that is going on. 
Festivals of Vietnam
Ho An Lantern Festival 
A spectacular and stunning festival that takes place in the UNESCO World Heritage Site transforming into a visually appealing and vibrant display is the lantern festival. It occurs every month with paper lanterns of all shapes, colours, and sizes seen outside every restaurant, business office, shop etc. It is also known as the light festival of Vietnam and is one of the most famous festivals in Vietnam. 
Lim Festival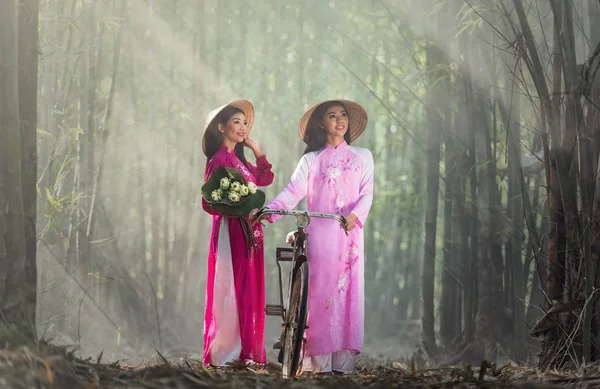 Traditional Vietnamese dress
Pic credits: depositphotos.com
A traditional festival of Vietnam which is held somewhere in the first week of February, Lim is characterised by a choir singing local songs where people dress up in colourful traditional attire. There are also games as part of the celebrations, like bamboo fighting, tug-of-war and wrestling. This festival is a great way to learn about the traditions and customs of Vietnamese people. 
Perfume Pagoda Festival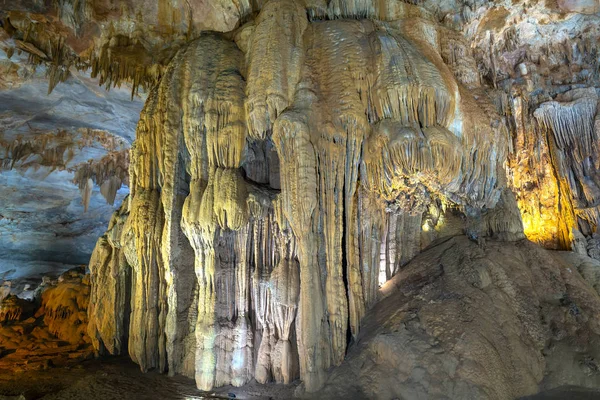 Limestone caves in Vietnam 
Pic credits: depositphotos.com
Another important festival is the Perfume Pagoda Festival which is named after the most famous pilgrimage site in Vietnam. Several pilgrims make their way through the sacred caves to pray for a prosperous year. The festival is basically characterised by the travel of devotees to get to the caves. The pilgrimage involves passing through limestone mountains via boat and walking through more than a hundred stone steps to ultimately arrive at their destination. This festival takes place somewhere around the second week of February. 
Cold Food Festival or Tet Festival
Tet Festival, also known as Cold Food Festival is a unique festival to take place in Vietnam. Lighting any fire is prohibited in this festival as tradition goes that the Duke lit the house of his loyal underman to lure him out of the woods but he refused to come and died in the fire. 
Hue Festival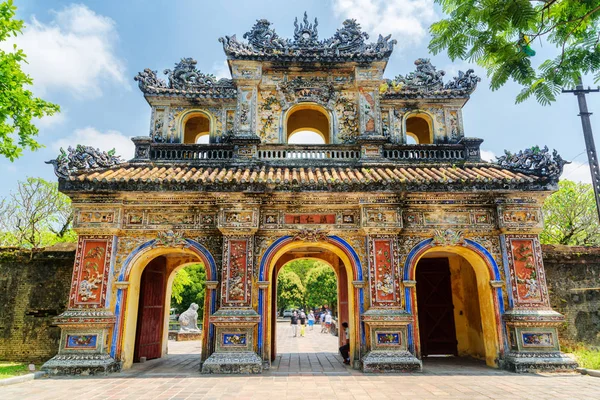 UNESCO world heritage site in Hue where the Hue festival is held
Pic credits: depositphotos.com
A major Vietnamese music festival that happens once in two years in Hue city is the Hue festival. It is characterised by cultural events, several games and performances. The celebrations go on for a week and there are many other activities as well like Poetry competitions, Fashion shows, boat racing, human chess, kite flying and so much more. It is said that if you are there to witness this festival, you'll realise that there is so much energy and enthusiasm that it is infectious. There are also movie screenings, puppetry, acrobatics, exhibitions etc. The whole atmosphere is so electrifying and the traditional customs practised in the festival are worth seeing. 
Food of Vietnam
The delectable food of Vietnam
Pic credits: Mark Wiens
There is a ton of variety in Vietnamese food and it is also very healthy. The Vietnamese people are masters at creating dishes which are delectable and full of flavourful taste. They catch their fish locally and raise their meat and poultry locally as well. The amazing part is that the street food varieties are also prepared with all the fresh ingredients. 
The famous Vietnamese bowl meal 
Pic credits: offbeatracks.com
Vietnam boasts its own food history and heritage with unique flavours and some patented recipes. All the dishes you will taste here will remind you of a pure and perfect combination of a hearty meal that you have at home. The cuisine of Vietnam has a distinct charm that has gained significant popularity all over the world attracting food connoisseurs and food lovers from all parts of the world. 
Let me just say that Vietnamese food is deliciously tasteful! And in case you have some restrictions or are sensitive to certain foodstuffs, you'll face no trouble here! For those who are vegan r vegetarian, the dishes can be customised according to preference. There is also good news for those who have gone gluten-free- Vietnam is the place for you! Most of the rice, veggies, meats and rice noodles are gluten-free. So, good gastro news all around!! 
Vietnam is known the world over for its delicious cuisine. Pho is a popular dish which is essentially a traditional noodle soup. Then there is Banh Mi, a delicious sandwich made with French bread and various fillings. One can enjoy the local seafood like squid and grilled seafood. There are a vast variety of vegetables and fruits that are grown all over the country. 
Take a Vietnamese cooking class for a one-of-a-kind experience when visiting this vibrant country. 
Every province of this country has its own customs, dialects and culinary styles. There are many ethnic minority groups that the country is home to. They mostly live in remote villages and have unique cultural identities. Groups like the Tay and Thai, the Muong and Nung are always willing to share their traditions with their guests. 
Offbeat Experiences We Offer
When it comes to Vietnam, everything is offbeat and unique. Nevertheless, there are an array of offbeat experiences that we offer in this quaint and quintessentially vibrant country: 
Trang An Grottoes in Vietnam
Pic credits: offbeatracks.com
Explore Ninh Binh and the Trang An Grottoes- This is an experience in itself with the most offbeat setting. 

Visit the Chu chi tunnel system and cruise down the Mekong delta. 

Practice Tai chi on the deck of a cruise for a unique experience with this art. 

Explore the largest network of caves in the world at the Son Doong caves for an unparalleled experience. 
How We Impact
At Offbeat Tracks, we take pride in the fact that the experiences that we provide to our guests are carefully crafted, immersive, unforgettable, and much more while also keeping in mind the impact on the environment. This is where responsible tourism at Offbeat Tracks comes in. Not only are we creating more employment opportunities by boosting village tourism but also partnering with local communities at homestays and service providers to create a self-sufficient ecosystem. 
We completely support local, whether it is food, homestays, experiences, artisans, or the communities. We are in complete alignment with the United Nations Sustainable Development Goals 7, 8, and 12 to work on clean and affordable energy, economic growth, and responsible consumption-production in all our travels.   
Finally, Vietnam is an amazing travel destination for many things that one can undertake, from outdoor thrilling activities to visiting national parks, and exploring history and culture and natural splendour, there is something for everyone here. A fascinating country with a rich history, scenic beauty and vibrant culture is what Vietnam means to travellers. It is an offbeat destination and we're inviting you to join us for the most offbeat experiences here where we tread the most offbeat of paths!