The image shows Tiger's Nest monastery and trek, the most popular place in Bhutan
Image courtesy: offbeatracks.com
Do you ever wonder what it is to travel to the happiest country in the world? Do you also dream of visiting a land tucked far away from all the chaos and countless charades, where the only thing that matters is peace and harmony?
Well, if that is the case, then Bhutan is the perfect holiday destination for you. It has a mix of everything: from Buddhist temples to the delectable Bhutanese cuisine, from Himalayan treks to serene monasteries fitted so well in the hill scenery. Bhutan is sure to win your heart in every way. 
Sharing its borders with India and China, tucked away in the Himalayas lies the Buddhist Kingdom of Bhutan. What can be said to describe its natural beauty? Majestic mountain views, meditatively calm and beautiful monasteries, and a culture that is rooted, even in the present changing world. Bhutan is also one of the first two countries in the world to be carbon negative, too. Pro-happiness and environment friendly, what a place it would be!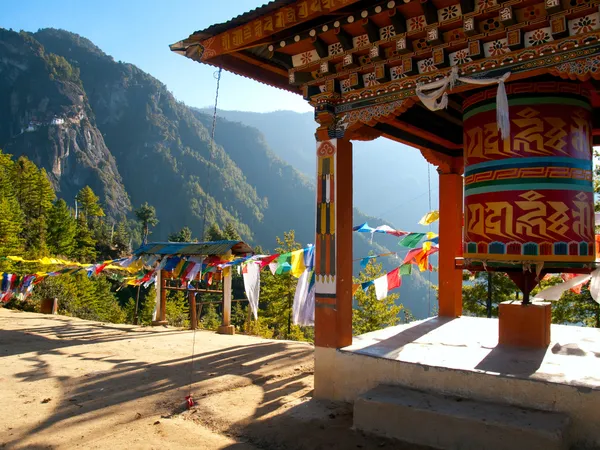 The image shows poster-perfect scenery of Bhutan
Image courtesy: depositphotos.com
A visit to this dreamland will take you on a remarkable journey of fortresses (called Dzongs), monasteries, ancient temples, and warm, happy people. Imagine a place where people hold more value for happiness rather than economic growth. It is a holistic and environmentally wilful choice!
How to get to Bhutan
By Air
Paro is the only international airport in Bhutan. It lies at a distance of an hour and a half from the capital city of Thimphu. The national carrier of Bhutan, Druk Air has direct flights to Paro from India, Nepal, Thailand, Bangladesh, and Singapore.
By Road
Phuentsholing which is at the India-Bhutan border is accessible via Siliguri. All you have to do is go from Siliguri to Hasimara and then Jaigaon. Since Indians do not need a visa to travel to Bhutan, it is easy to reach Phuentsholing from Jaigaon. 
A point to mention here is to carry all your important documents for checking at the border: voter's card, driving license, etc. 
From Phuentsholing, the 5-hour drive to Thimphu is superbly scenic and enjoyable in every way. 
Another possible access is to fly to Bagdogra airport in Siliguri (West Bengal) and then go on to Bhutan via road from Jaigaon, crossing the border to Phuentsholing. 
Another access to Bhutan is through Gelephu which is at a distance of 240 kilometers from Guwahati via Bongaigaon. This is a remote border and usually not frequented by tourists, since it is used for business and shipping purposes. 
By Rail
By railways, one can reach the NJP or the New Jalpaiguri Station in West Bengal to then drive to Jaigaon and beyond. 
Best time to Visit Bhutan
The best time to visit Bhutan may vary with what you want to do there. 
Autumn in Bhutan
Autumn in Bhutan commences in September. The hill country greets you with clear blue skies and comfortably pleasant weather. The temperature varies between 4 to 20 degrees Celsius. Trekking is most enjoyable in this period. 
Winter in Bhutan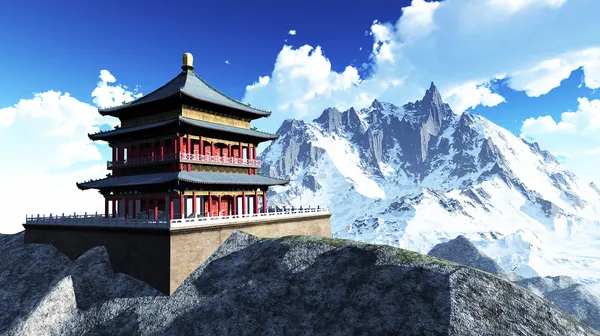 Winter scenery in Bhutan
Image courtesy: depositphotos.com
Winters in Bhutan are considered the shoulder season. But it is surely an offbeat thing to do to visit the Land of the Thunder Dragon in the months from December to February. The days see a lot of sunshine whereas the temperature dips to almost -10 degrees from around 10 degrees in the daytime. Bird watching is a preferable activity at this time of the year.  
Get in touch with us for the most adventurous river rafting experience in Punakha. 
Spring in Bhutan
Spring is the perfect time when nature is at its best, waiting to be explored. The months of March to May witness the Druk capital in an array of colours, welcoming the visitors. Bird watchers are in for a treat as there are a vast variety of birds found in this season. The view of peaks is one to behold and the famous Paro Tsechu festival also takes place at this time. You are surely lucky if you get a chance to witness the colourful festivities. 
Add the Paro Tsechu festival to your next itinerary with us and be a part of all the festivities. 
Summer in Bhutan
Summer in Bhutan is welcomed by rains washing the mighty mountains giving them an out-of-the-world aura. The temperature ranges from 7 to 21 degrees Celsius. The months from June to August are summertime in the country. 
Places to visit in Bhutan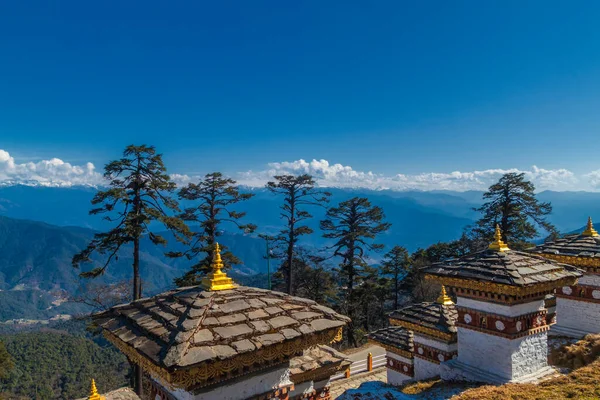 The image shows 108 Memorial chortens in Thimphu
Image courtesy: depositphotos.com
The capital of Bhutan is Thimphu which happens to be among the highest capitals in the world. It is perched at an elevation of 7656 feet. Bhutan, being a landlocked country, is bordered by the Tibet Autonomous region in the north and India on all three other sides, Sikkim in the west, Arunachal Pradesh in the east, and West Bengal and Assam in the south. Bhutan is landlocked and also happens to be the second country that is least populated with the Maldives topping the list.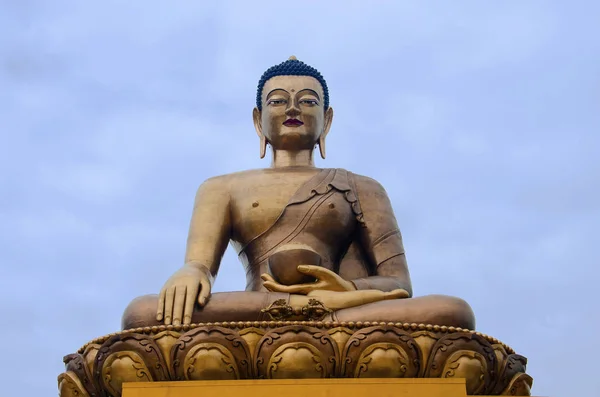 The Buddha Dordenma Statue in Thimphu
Image courtesy: depositphotos.com
One of the largest Buddha statues in the world is the Buddha Dordenma in Thimphu. It is perched on top of a mountain and gives breathtaking views of the valley below. 
Kila Goempa
One thing that is quite noticeable is that all of the monasteries, temples and other meditation centres are either sitting on a cliff or lying at the edge of a mountain. Kila Goempa is no exception to this unique architecture. It boasts of being Bhutan's oldest nunnery. 
Access to it is not easy, one has to hike for hours to reach it and witness it. The nuns who live there also have a silent and solitary meditation retreat ranging from 3 weeks, and 3 months to a 3-year-long meditation routine. 
A point to note is that clicking pictures is prohibited inside all the Buddhist temples in Bhutan. This is so to respect the deities and also to avoid any disturbance to visitors or monks praying inside. 
Chime Lhakhang Temple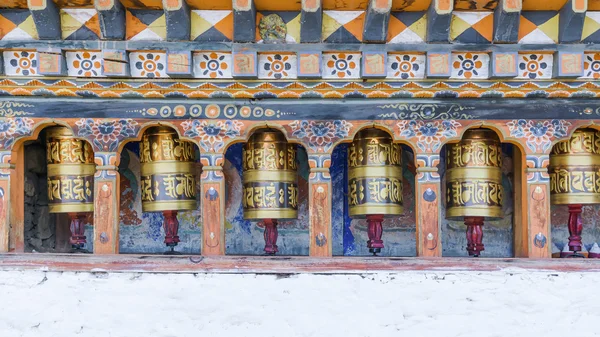 Buddhist prayer wheels inside the Chime Lhakhang temple in Punakha
Image courtesy: depositstockphotos.com
The famous Chime Lhakhang temple is called the fertility temple and is known all over Bhutan. People come to offer special prayers to be blessed with a child. It's heartening to see a photo album maintained by the temple of children borne by the parents who visited there. 
Offbeat experiences to have in Bhutan
Bhutanese hot stone bath
A personalised hot stone bath experience curated by us exclusively for you
Image courtesy: offbeatracks.com
A Bhutanese hot stone bath is the perfect therapy to get rid of all the muscle stiffness and aches in your body. Imagine this to be your personal spa with mineral-laden river stones. These are heated on hot coals for hours so that they get very hot. They are then put in a wooden tub in which the minerals get released. This was the erstwhile bathing way used by people in earlier times. 
Rejuvenate yourself by indulging in a traditional Bhutanese hot stone bath which we will curate for you.

The image shows the typical Bhutanese staple of Ema datshi with red rice
Image courtesy: depositphotos.com
To meet and interact with a local family is a rather interesting encounter. A home-cooked meal in Bhutanese style is a great culinary experience. Local liaisons lead to the best of experiences in truly getting the authentic flavour.
You can get to try the local preparations like pork, vegetable dishes, ezay or the Bhutanese chilli sauce, rice wine (homemade), and many other delicacies. 
Taktsang Monastery (Tiger's Nest)
The symbol of this incredible country is this Tiger's nest monastery. The hike up to the monastery is indeed challenging but a rewarding experience once you reach the top. 
The steep trek to the Tiger's nest
Image courtesy: offbeatracks.com
It is surely an architectural marvel and an iconic structure of the country. It is an ideal place for the ardently spiritual as well as superbly adventurous. The exhilarating climb to the top is full of stunning views and totally worth the toil. 
Trek to the Tiger's Nest with us for the best trekking experience and stunning views. 
Attend a Bhutanese mask dance
The image shows traditional Bhutanese masked dance
Image courtesy: offbeatracks.com
Dances and festivals are the cultural extravaganzas this country is known for. Most of the festivals have some or the other Buddhist beliefs and symbolism associated with them. Some are also symbolic of the harvest and agricultural calendar of the country. Then there are the others depicting love, life, and death themes. 
Add the Bhutanese Masked Chham dance to your itinerary with us. 
Snowman Trek
Adventure and challenges await the seeker at the Snowman Trek. It is touted to be among the most challenging treks in the world. 
The image shows the snow-covered mountains of Bhutan
Image courtesy: offbeatracks.com
Beginning at Paro, it takes you through the remote parts of Laya, Lingshi, and Lunana Valley. It goes through four different passes. The months from September through to October are the best time to make the most of this trek. 
Mountain Biking in Punakha and Paro
Cycling in the mountains in Bhutan
There are myriad mountain biking trails and therefore, a great option to explore the monasteries and mountain areas that may not be possible to access on foot. From Paro towards Bumthang, the scene setting is breathtaking, with rugged mountains, paddy fields, and a spiralling descent. 
For bikers, there are numerous trails that Punakha has to offer. The ones famous among biker parties are the ones flagging off from Pho Chhu and those that lead to Tschochagsa.
Kayaking and Rafting 
The lower Paro Chhu River has a seven-kilometre stretch that is characterised by boulder rapids. For beginners, Mo Chhu is a better option with beautiful views of the rivers flowing through the valley. You also get to see the winter residences of the king and the queen. 
The image shows river rafting in Mo Chhu river
Image courtesy: offbeatracks.com
Paro
Paro is the most beautiful valley in the entire Kingdom of Bhutan. It is the perfect place for soul seekers with lush undulating paddy fields, a landscape sprinkled with monasteries, and traditional Bhutanese-style houses. The scenery is simply surreal!
Tickle your taste buds with an authentic Bhutanese hot pot meal at Paro with us!
Trashi Chhoe Dzong
The Trashi Chhoe Dzong is another must-see structure that is quite impressive. It has huge golden spires on top made in traditional Bhutanese style.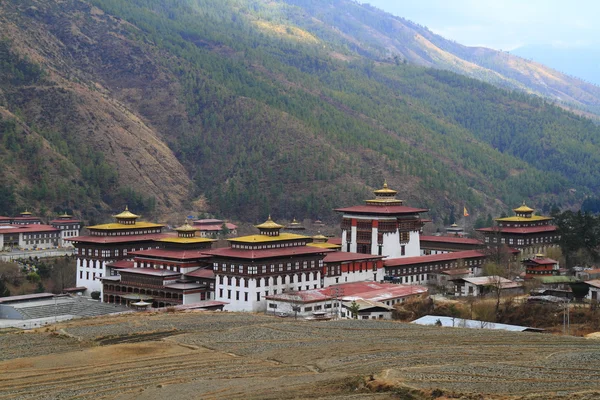 The image shows Trashi Chhoe Dzong in Thimphu
Image courtesy: depositphotos.com
It houses the national library, the seat of Bhutan's national government, and also the throne room of his Majesty the King of Bhutan. It also has the largest monastery in Bhutan and is known for the Thimphu Tshechu or the Buddhist religious celebration. 
Visit the open-air market
It is always a good idea to check out the local markets of any place that you are visiting. Bhutan is definitely no exception. The local markets really carry the actual flavours, aromas, and the spirit behind the authentic food of a place. 
The image shows local souvenirs at markets in Thimpu, Bhutan
Image courtesy: offbeatracks.com
Local liaisons with people and vendors in the market are a peek into the authentic culture and cuisines of the place. In Thimpu, there is the Centenary Farmers Market that will be most amusing to visit. You'll get to see all kinds of peppers- fresh chilli peppers and dried ones and Sichuan peppers. Bhutanese love their chillies for sure!
Incense is another commodity found in great varieties, textures, colours, and even blends. Incense can be called art in Bhutan and is made used to purify markets, homes, temples, and monasteries. 
Culture and language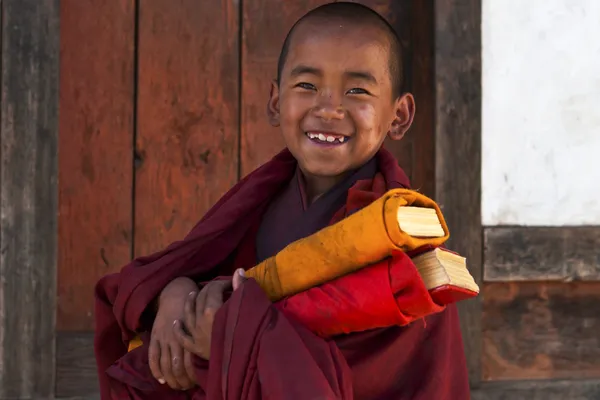 A young Buddhist monk in Bhutan
Image courtesy: depositphotos.com
The royal kingdom of Bhutan has been recognized as a Baeyul which means a sacred Hidden Land of Spiritual Treasures, and rightly so. Progress, for most countries, means GDP or Gross Domestic Product, isn't it? But the definition here in Bhutan is quite the opposite. They gauge their progress by the GNH or Gross National Happiness! It goes to show that they measure the growth and development of their nation holistically.
The fourth king of Bhutan, Jigme Sinye Wangchuk ideated the GNH somewhere in the 1970s which now helps to quantify if the country can meet its happiness development goals or not. There are four important verticals of GNP, namely:
Environmental Conservation

Sustainable Socio-economic Development

Good Governance

Preservation and Promotion of Culture
It would be a treat in every way to visit a country that has all these fundamentals when it comes to measuring progress. 
Bhutan is a one-of-a-kind kingdom with a multi-faceted culture backed by royal family history. The beauty of this culturally rich place is best experienced. Monasteries stitched into the Himalayan hills and mysticism rhymes in symphony with the traditions it boasts of. The whole country revels in its vibrant culture and traditions. 
The image shows Lama in meditation at Tango monastery
Image courtesy: offbeatracks.com
The official language of Bhutan is Dzongkha. But here is an interesting fact. Almost all the locals understand and even speak Hindi and are very fluent in English as well! Don't be surprised if you are welcomed with a "Namaste" as people don't shy away from conversing with tourists in Hindi.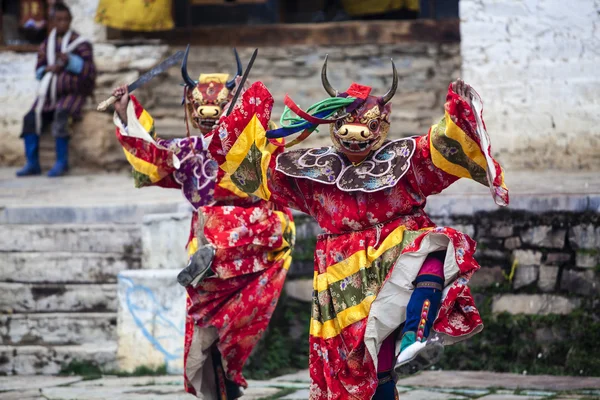 The image shows the cultural masked dance of Bhutan in Tsechu festival
Image courtesy: depositphotos.com
Festivals in Bhutan celebrate the ancient Buddhist culture that this Land of Thunder Dragon is so proud of. They take place in all the districts in honour of Guru Rinpoche, known to be the saint to bring Buddhism to Bhutan. Masked dance rituals are common as Tsechus that take place according to the Bhutanese calendar. They are held for up to four days. 
The festivals are a time of family and social bondings and are held at fortresses called dzongs and even at monasteries. Everyone dresses up in the finest of attire and beautiful turquoise and coral jewellery. People stay at festivals the whole day having come with packed lunches.  
On the other hand, the monks prepare for their masked dances many weeks before the commencement of the festivals. They undertake deep prayer and meditation sessions. It is a belief that these special masked dances that the lamas perform serve as means to gain enlightenment for the common folk. 
In case you are unable to catch a festival, there is no need to be disappointed. Just make a visit to the Dzong and you will get to see monks practising for the festival and also preparing the material for the same. This is a great opportunity for you to spend time with the monks to know the significance and meaning of these festivals. There is a lot you can know about: the origin, the faces behind the masks, the history and so much more. 
The three prime Tshechu are the Paro Tshechu, Thimphu Tsechu and the Punakha Tsechu. The Punakha Tsechu happens to be among the most important festivals of Dragon Land. It is the first festival of the year in March between 11-14th and takes place at the grounds of Punakha Dzong.
The Paro Tsechu
Another big festival of Bhutan is the Paro Tsechu held in mid-April. It is celebrated to mark the birth anniversary of Guru Rinpoche at the Rinpung Dzong. Masked dances in the courtyard are the attractions that lure in many tourists. 
Thimphu Tsechu 
Another festival known to be one of the most colourful in Bhutan is the Thimphu Tsechu. It is held in the courtyard of the Tashichho Dzong and is a major tourist attraction. It commemorates the birth of Guru Rinpoche.  
Food of Bhutan
A typical meal in Bhutan
Image courtesy: offbeatracks.com
Chillies form a very important part of Bhutanese cuisine. 
Ema Datsi
An everyday staple made of yak cheese and chillies, Ema Datsi is the national dish of Bhutan and is common to restaurants serving it as well. 
Hoentoe
Hoentoes are the Bhutanese version of dumplings. They are made of buckwheat with a stuffing of datshi (cheese), spinach, turnip greens, and other ingredients. 
Phaksha Paa
A pork delicacy cooked with spinach or radishes and the most important ingredient, the spicy red chillies. This is surely a must-try if you are a pork eater. 
Suja or Bhutanese Butter Tea 
The Suja or the Bhutanese Butter tea is made from boiled tea leaves in water and then finished with some salt and yak butter. It is the favourite beverage in Bhutan and worth a try!
Other dishes are "Ezay" or the Bhutanese chilli sauce, carrot ginger soup, buckwheat noodles, and Jasha Maru, or the Bhutanese chicken curry.⁠⠀
Offbeat experiences we recommend
We realise that the true appeal and aesthetics of a place must have the best effect on the visitor. Only then will the experience be etched in your memory and the trip, one you will cherish forever. Here are some of the offbeat experiences we provide in doing just that for your personalised trip:
We arrange for an authentic traditional Bhutanese meal at the folk heritage museum in Thimphu. The entirety of a local and authentic experience will leave your taste buds wanting more.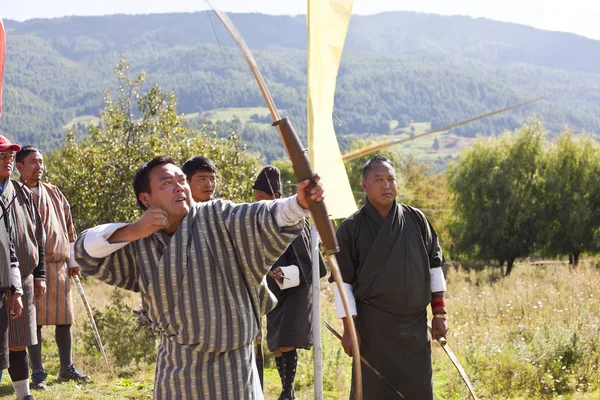 The image shows an Archery competition in the Bumthang valley, Bhutan
Image courtesy: depositphotos.com
2. Archery is the national sport of Bhutan and is quite a fascinating game. 
Indulge in taking some aims yourself with this Offbeat experience that you will surely not forget!
3. The hot springs at Gasa are located near the Mo Chhu River. They are frequented by locals as well as tourists. 
Get in touch with us to take you through the beautiful Gasa hot springs treat! We assure you, it will be a beautiful experience. 
4. When in Bhutan, why not take some culinary lessons? Just let us know and we'll arrange an exciting cooking class so that you get hands-on experience of preparing a Bhutanese meal. This for sure will be a truly local flavourful experience. 
5. Listen to the mountains whisper the scenic vistas and the hill breeze brushing your face at the Hidden Haa valley with us for an unparalleled time in a uniquely beautiful setting. It is located not very far from Paro and is surely worth a visit. 
This place is still lesser known but surely a gem worth visiting. Haa has strategic importance for India due to its proximity to the Indo-Tibet border and the IMTRAT (Indian Military Training Teams) base here. 
The image shows local brewery in Bhutan where Beer is made
Image courtesy: offbeatracks.com
6. Visit the local Bhutanese brewery in Paro with us and have a great time with some Beer tasting! Now, this is surely an experience you will enjoy 'Bery' much!
How we impact
At Offbeat Tracks, we take pride in the fact that the experiences that we provide to our guests are carefully crafted, immersive, unforgettable, and much more while also keeping in mind the impact on the environment. This is where responsible tourism at Offbeat Tracks comes in. Not only are we creating more employment opportunities by boosting village tourism but also partnering with local communities at homestays and service providers to create a self-sufficient ecosystem. 
We completely support local, whether it is food, homestays, experiences, artisans, or the communities. We are in complete alignment with the United Nations Sustainable Development Goals 7, 8, and 12 to work on clean and affordable energy, economic growth, and responsible consumption-production in all our travels.   
This beautiful kingdom of Bhutan with its whispering valleys, colourful culture and enviable happiness index is sure to amaze you. Bhutan is certainly an offbeat holiday destination where one can see the magical mountains doing the mood play. We hope your journey leads you to this Dragon land with us!