Is it true that Mizoram is a lesser-known splendid destination? Yes, of course! Nature has sprinkled its bounties all over this quaint state that has a natural extravaganza of flora, a rich culture, and a unique heritage of indigenous people that adds extensively to its appeal. Other than that, the Mizo people are also very fond of celebrating their unique culture and traditions by way of a plethora of festivals and occasions. 
One of the many prominent festivals of the Mizo state is the Anthurium Festival which celebrates the mesmerising anthurium flowers grown vastly all over the state. Read on to learn more about this lovely festival celebrated yearly in the bloom season at Reiek Tlang. 
How to reach Reiek Tlang
By Air
Mizoram has only one airport which is the Lunglei Airport at Aizwal. The Reiek Tlang village which is the venue for the Anthurium Festival is at a distance of about 30 km from Aizawl which means a driving time of about 70-80 minutes. You can fly into the airport at Aizwal and then book a cab or hire a taxi to reach the venue. 
By Train
Reaching here by rail is not really advisable as it takes a long time and there is no railway station in Mizoram. The nearest one is at Silchar which is around 160 km from Aizwal. From there, you can then book a cab or a hired taxi to reach Reiek Tlang. 
By Road
Guwahati and other cities are well-connected with the capital city of Mizoram. From Guwahati, the distance to Aizwal is about 450 km and you can take govt transportation like buses and also take cabs/shared taxis alternately.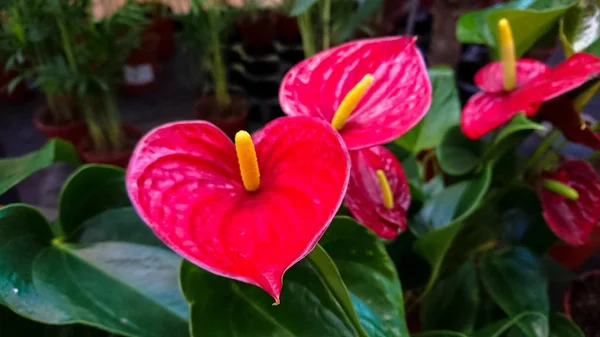 The pretty heart-shaped Anthurium flower
Pic credits: depositphotos.com
The most important festival of Mizoram is the Anthurium festival which is primarily celebrated to boost tourism in the state. It is organised by the joint collaboration of the tourism and horticulture department. The festival is celebrated for a dual purpose, which is to boost the cultivation of this stunning marvel of a flower and also to attract tourists to the beautiful bounties of nature in this state. The festival is held annually in the month of September or October and is a three-day festival. 
What all to look forward to?
There are several things that you can look forward to, at this amazing festival. Let's see what all are you in for!
The activities include
Folk music

Indigenous Mizo games

Cultural dances

Zip lining

Handloom and Handicrafts Exhibition and Sale

Rifle Shooting

Adventure park

Cultural display of traditional dresses of various tribes and sub-tribes

Ethnic and local food court

Variety display of Anthurium flowers

Carnival
There is also a possibility to interact with the local tribes and get to know their lifestyle, food habits, culture and traditions. All in all, it is a great opportunity for an enriching time spent with the local Mizo people and truly understanding their roots and culture.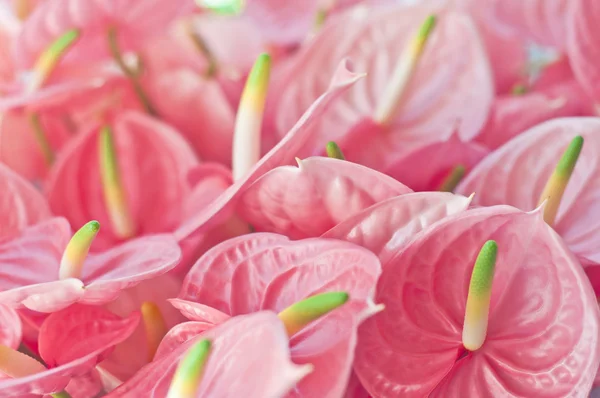 Wonders of nature, Pink Anthurium flowers in Mizoram
Pic credits: depositphotos.com
Rarity is a blessing and to treasure it is divine! The village of Reiek Tlang boasts of this rare and exotic plant by showcasing it in the best way. The exotic Anthurium flower has its peak blooming season in September and the festival is held at the foothills of the mystical Reiek mountain, which is an hour's distance from the capital city of Aizwal. For many years, this festival has been a good way to depict the customs, traditions and Mizo culture alongside boosting the Anthurium horticulture. 
Where is the Anthurium Festival held?
There are many reasons that this place has been selected as the destination for this festival. The lush greenery and vegetation with a lovely landscape are a treat to the eyes and it feels as if nature invites you to Reiek. A look at the distinct traditional Mizo huts of the village lends a peek into the look of tradition and their early lifestyle. 
Book a curated tour with us to the Anthurium Festival in Mizoram! 
What all to do at the Anthurium Festival?
The peak season of Anthurium is when this festival takes place which is usually in late September or early October. The fresh anthurium flowers enhance the overall beauty of the vicinity as they are in a plethora of sizes, colours and varieties. The air has a beautiful and infectious vibe of celebration and festivity.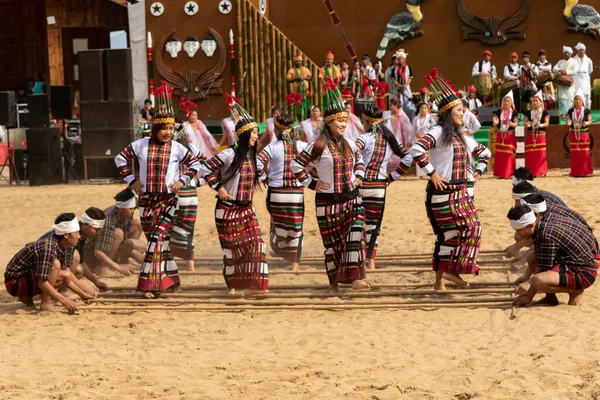 Mizo Bamboo dance performed at the Anthurium festival 
Pic credits: depositphotos.com
The event is extravagant in many forms, whether it is dances, music or talent shows, games, handicrafts exhibits and much more. There are cultural events, archery, rifle shooting, fashion shows, and angling, among many others. 
The local cuisine plays a beautiful symphony with your taste buds and will surely have you in drool! Once you try one or two of them, you'll realise you are lost in the Mizo world of flavours. The local drinks too are worth a try! We insist that you must definitely indulge in them!
The whole landscape and aura of Mt Reiek are so charming that you are nothing but drawn to the stupendous beauty of this natural splendour! The heritage village has a multi-hued culture and traditions that enchant the visitors. Interacting with the local Mizos, and taking some localising feels in their lifestyle is rather an appealing activity in their amazing hospitality. 
Come with us to this alluring and awe-inspiring Anthurium festival and be awed at the natural splendour this nature's especially treasured flower is! Plan a trip to the lesser-known Mizoram state for nature's bounties galore. It shall surely be one of the best trips that will be etched in your memories forever! 
Apra is a reader, dreamer and a writer with a love for writing that reflects in her work