With views that pull you through to them like magnets, Sikkim is a quaint little state nestled in the Himalayan paradise in India. You are surely missing out on something if you haven't yet had a chance to explore this beautiful state complete with breathtaking Himalayan hues. There are snow-sprinkled peaks, stunning views and a fascinating culture that simply stirs up your soul!
Sikkim is easily reachable by train, air or even by road. The hospitable and warm Sikkimese people meet and greet you with so much charm and warmth that your hearts are won instantly. 
These best places to visit in Sikkim that we have for you will give you an unparalleled Sikkim experience which will make your holiday here all that you've wished for a long time. 
It must be noted that Sikkim is divided into four main districts namely, east, west, north and south with Gangtok being the capital falling in the East district area. Let's take a look at the best places to visit in Sikkim for a holiday. 
Gangtok 
 Ropeway in Gangtok
Pic credits: offbeatracks.com
The capital city of Sikkim, Gangtok is one of the best places to visit in Sikkim. We will also tell you the places to visit in Gangtok so that you have the opportunity to explore this city in its totality. Gangtok sightseeing places are so many that you'll need a good number of days to spend in and around the capital for the entirety of the experience. There is Rumtek Monastery, Enchey Monastery, Hanuman Tok, Ganesh Tok, Tashi viewpoint, a ropeway through the bustling Gangtok city and many more Gangtok tourist places. Scenic vistas, cultural charm and hustle and bustle are what this city is complete of. Best among the East Sikkim tourist spots, Gangtok, being the capital, has a lot to offer its visitors. 
East Sikkim
Tsomgo Lake
Tsomgo Lake or Changu Lake in East Sikkim
Pic credits: offbeatracks.com
Around 40 km from Gangtok, the road will take you to a lake that looks like it holds time to be standstill. When you have the first look at the Chhangu or Tsomgo lake, you feel you have realised the stillness of time. It is a glacier lake and has surreal beauty to behold! It is one of the famous places to visit in Sikkim.  In the local dialect, Tsomgo means 'source of water'. It is also one of the highest-altitude lakes and shows a reflection of the snow-sprinkled mountains that surround it. You will also get to see yaks and if lucky enough, the migratory Brahmini ducks. 
In order to see snow, the months of January to March are recommended whereas the Rhododendrons display happens between the months of April and May. 
Nathu La Pass
The Nathu La Pass (at 13,123 ft) is a border area between India and China. It is one of the top places to visit in Gangtok. There are fair chances you'll get to witness snow in this area even in the early summer months. You need a permit to visit this place due to its proximity to the border. It is located in the East Sikkim area on the road from Gangtok further towards Nathu La and in between, you get to see Tsomgo Lake. 
Zuluk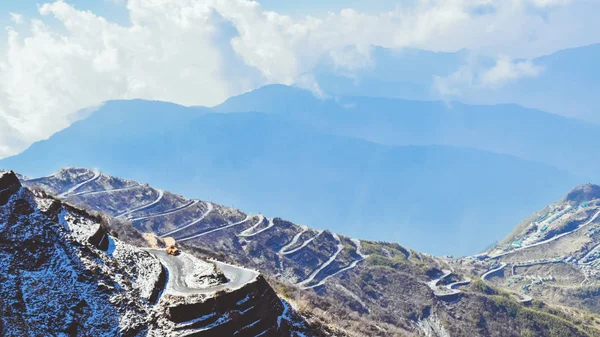 Hairpin bends in Zuluk
Pic credits: depositphotos.com
An offbeat locale in East Sikkim, Zuluk will mesmerise with its winding roads, and views of the mountains that surround it. There is a pristine and unique temple named Nag Temple which is dedicated to Nag Devta (Snake God). It has an idol of King Cobra and is shaped like a den or cave which feels like entering into a snake hole. 
Other major attractions of Zuluk are magnetic views of snow-clad Mt Kanchenjunga and Thambi View Point which are visited by most travellers landing in Zuluk. Make sure this really beautiful and scenic town comes on your list of places to visit in Sikkim while coming to this bewildering state.
Contact us for a smooth East Sikkim itinerary curated according to your special travel needs. 
West Sikkim
Pelling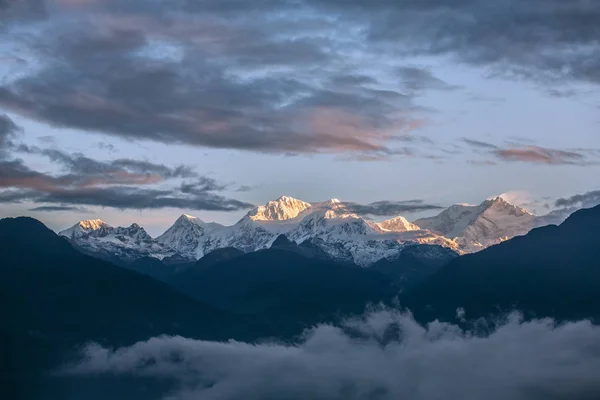 View of Mt Kanchenjunga, the highest peak in India from Pelling
Pic credits: depositphotos.com
After Gangtok, the city which pulls the most crowd in Sikkim is Pelling. Located at a drivable distance of about 130 km from Gangtok, the easiest way to reach Pelling is to reach Gangtok first and then drive down by road. 
A vast number of travellers flock to Pelling in search of peace while relishing in the lap of nature and some gorgeous views. Ideal for trekkers and peace-loving tourists, Pelling is best to be visited between the months of December to May. Other times of the year also have a lot to offer, especially panoramic views of Kanchenjunga. 
Sky Bridge 
A bucket list contender, the Sky Bridge or the Sky Walk is the first of its kind in India. It is located at a distance of 2.5 km from Pelling and an elevation of 7200 ASL. There are beautiful snow-topped Himalayan peaks surrounding the skywalk overlooking the 137 feet tall Chenrezig statue. You can also get panoramic views of the Rangit and Teesta rivers from high atop the skywalk. 
Add walk on the Sky Bridge in one of a kind experience in Sikkim
Khecheopalri Lake
Khecheopalri Lake in Sikkim
Pic credits: offbeatracks.com
Another famous tourist place in Sikkim is Khecheopalri Lake. It is known to be a pilgrimage site for Hindus and Buddhists too. The locals believe that the place can fulfil the wishes of visitors. It is a natural marvel and a very peaceful place that will truly satisfy your soul. According to legend, Khecheopalri Lake is said to be in the shape of Lord Shiva's footprint. 
Rabdentse Ruins
Rabdentse ruins in Sikkim
Pic credits: offbeatracks.com
Rabdentse served as the second capital of the erstwhile Kingdom of Sikkim from the 17th to the 19th Century. The Gurkha army destroyed this capital city and now only the ruins of the palace and chortens are the remnants here. They are situated very close to Pelling in the district of West Sikkim. 
The Rabdentse ruins form a part of the religious pilgrimage circuit in which Dubdi monastery at Yuksom is the first followed by Norbugang Chorten, Tashiding Monastery, Pemayangtse Monastery, Sanga Choeling Monastery and Khecheopalri Lake
North Sikkim
Lachen, Lachung and Yumthang Valley
Winter scenery in Lachen in North Sikkim
Pic credits: offbeatracks.com
Lachen, Lachung and Yumthang are charming villages that are totally immersed in the Sikkim culture. These are a sure visit when in Sikkim and must be on your itinerary for sure. Lachen is home to Tibetan nomadic tribes that flock to it in the winter season when snow sets in. It serves as a gateway to two lakes that are breathtakingly beautiful, Gurudongmar and Tso Lhamu Lakes. Lachung is ideal to soak in all the snow and Yumthang is known as the valley of flowers which is ideal to view the beauty of flowers.
Valley of flowers, the Yumthang valley in Sikkim 
Pic credits: offbeatracks.com
Gurudongmar Lake
The surreal Gurudongmar Lake in North Sikkim
Pic credits: offbeatracks.com
An uncanny similarity to the Pangong Tso Lake which is located in Ladakh, the beautiful bright turquoise colour of the surreal Gurudongmar lake makes it a sight that looks like a picture straight from heaven. All this makes it one of the must-visit places in Sikkim. The altitude of the lake is about 17,800 ft above sea level. This lake is considered holy by people of three religions- Hindus, Sikhs and Buddhists and this is the reason that makes this lake even more special. One can get to spot yaks and also the rare blue sheep here. 
Goecha La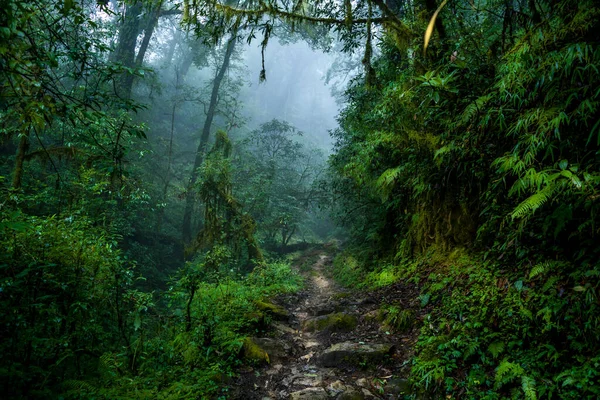 The image shows a forest trail in Goecha La
Image courtesy: depositphotos.com
Among places to visit in Sikkim, one must most definitely add Goecha La. It is a mountain pass which is quite a favourite among trekkers and hikers. Adventure has a new definition here and it is the best place for some adrenaline rush experiences. If you are not there for the adventure activities, there is still the attraction of some of the best views of Mt Kanchenjunga that you get from here!
North Sikkim is complete with all the quaint village experiences that we provide for you. Let us curate an unforgettable Sikkim experience for you! 
South Sikkim
Ravangla
Buddha park in Ravangla, South Sikkim
Pic credits: offbeatracks.com
Ravangla is famous for the life-size Buddha statue at the Buddha park here. It is among the Sikkim tourist spots that attract many crowds all over the year. The park is beautifully made with the Buddha standing tall made using 60 tonnes of copper and 5 kgs of gold. The statue is lit up after sunset which makes it look even more stunning. 
Temi
The beautiful Tea gardens at Temi in South Sikkim
Pic credits: offbeatracks.com
The beautiful and lush Temi tea gardens are among the famous tourist places in Sikkim. They are situated at Namchi which is also famous for a Char Dham temple and Samdruptse Hill with a gigantic statue atop the mountain. Temi tea is exported all over and has a unique flavour and fresh aroma.  
South Sikkim tour with us is the best to explore this beautiful and serene district of Sikkim. 
Travel is the best way to gain insights, learn new perspectives, and engage in cultural exchange as well. How you learn and absorb a new culture can never be taught by any book or learnt in any other way. Travel unravels many facets of a person as a traveller and many things that he/she has as personality aspects.  Come to experience Sikkim in its most authentic cultural essence by visiting some of the best Sikkim tourist places. Let's explore this small state together that has bounties to offer to every traveller!